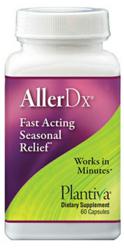 Botanical ingredients that strengthen your adrenals and improve liver function, along with herbs to clear respiration, such as those found in Plantiva's AllerDx, can make it easier for you to be outside & enjoying the beauty of nature. - Dr. Morrissey
Central Point, OR (PRWEB) July 24, 2012
With the record breaking warm weather across much of the US, adapting to what ABC News has called the "worst ever" allergy season has become particularly challenging for the one in five Americans who suffer from allergies. Pollen counts are up, and millions of Americans who are sick of their medicine's usual side effects, like drowsiness and fatigue, are fueling an all-natural revolution. Plantiva, a leader in holistic healthcare since 1993, is helping by giving away free samples of AllerDx (http://www.AllerDx.com - while supplies last), a plant based pill that provides seasonal relief in just 15 minutes.
Botanical ingredients that strengthen your adrenals and improve liver function, along with herbs to clear respiration, such as those found in Plantiva's AllerDx, can make it much easier for you and your immune system to be outside enjoying the beauty of nature. – Dr. Stephen Morrissey, Plantiva co-founder and President
Don't believe it? Visit http://www.AllerDX.com to claim your free sample and also try these other free tips to start enjoying summer now:
1.) FEEL BETTER FAST: in just 15 minutes with a natural supplement, AllerDx, America's best natural solution. Stimulant free, non-drowsy, and clinically tested to restore nasal airflow within 10-20 minutes. Try it and believe. Visit http://www.AllerDx.com to get a free sample of AllerDx (while supplies last).
2.) WATCH YOUR DIET: Certain foods can make you more susceptible, especially ones that create internal heat like alcohol and fried foods. Foods that may increase congestion like dairy and white flour should also be minimized
3.) GET PLENTY OF REST: Anything that exhausts your energy can weaken your adrenals and potentially increase your immune reactions to the environment. Exercise is good but try not to over-do it to the point of exhaustion.
4.) MAINTAIN A CLEAN INDOOR ENVIRONMENT
Vacuuming helps keep indoor allergens to a minimum. If you have allergies, wear a dust mask while doing spring cleaning indoors and, air your house out for several hours after using any cleaning sprays.
ALLERDx CLINICAL STUDIES
AllerDx has been tested in two randomized, crossover, placebo-controlled, double blind clinical trials. One was a 3-day study and the other was a longer one month study.  Each trial included 20 subjects with histories of seasonal environmental sensitivity. Study results showed that within 15 minutes, the subjects that received AllerDx began to show significantly improved nasal airflow compared to subjects that received placebo.
ABOUT PLANTIVA
Founded in 1993, Plantiva is the result of years of dedication by doctors in numerous fields of healthcare, including TCM pharmacognosy, Western medicine, Oriental medicine, molecular biology, and analytical chemistry, who are dedicated to providing only the highest quality botanical health products. The Plantiva brand currently comprises AllerDx, ImmuneDx™ and ColdDx™ for environmental sensitivities, immune protection, and immune system relief.
Through Plantiva's own scientific testing program, complete vertical integration of ingredient supply chain, and selection of pristine "green" growing areas, it is able to ensure that its customers receive the highest quality botanical products since 1987.
ABOUT DR. STEPHEN MORRISSEY
Plantiva Co-Founder and CEO Dr. Stephen Morrissey has a doctorate in Oriental Medicine and more than 25 years of clinical experience with herbal medicines, homeopathy and nutrition. He has developed more than 40 professional and consumer health products, including Plantiva brands AllerDx, ImmuneDx and ColdDx which are targeted to improve and maintain the health of specific aspects of immune function. .  Morrissey has made over 30 trips to China where he established two joint venture companies to undertake research on safety, efficacy and the quality of botanical medicines and GMP botanical manufacturing.
For more information about Plantiva or to schedule an interview with Dr. Morrissey, contact Alexander Ali at The SOCIETY Group at (310) 579 -7275 or alex@societygroup.biz
http://www.plantiva.com
###