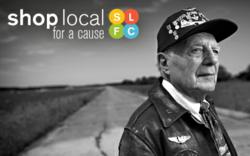 Phoenix, AZ (PRWEB) July 25, 2012
TGGF is a non-profit honoring WWII veterans and educating children and adults about their service. This organization is also a featured charity with the NALA, (http://www.theNALA.com), a small business association, launching Shop Local for Vets, the first campaign from Shop Local for a Cause. The NALA provides local business owners business growth opportunities through sales and marketing solutions while connecting to well-run charity organizations. Garage Floor Coating in Phoenix is one of many of the NALA's businesses throughout the country participating on August 18th.
Garage Floor Coating began 16 years ago, providing the highest quality industrial grade concrete coatings available. They beautify all types of concrete including garages, patios, walkways, driveways, and even inside the home. Garage Floor Coating has also partnered with one of the NALA's national non-profits, Miles Against Melanoma. For more information about Garage Floor Coating, please call 602-579-2628 or visit http://www.garagefloorcoating.com.
Please visit Shop Local for a Cause to learn more or to find local businesses participating on Saturday, August 18th. TGGF also has a Text to Donate number; one can donate $10.00 to The Greatest Generations Foundation today, by texting TGGF to 20222.
About Garage Floor Coating
Garage Floor Coating was founded in 1996 and now with over 30 Dealers throughout the United States and in Canada, GFC is the leading innovator in garage floor coating techniques. The floor's coating process, developed and perfected by Robert Hanson, remains the benchmark for the industry and raised the bar to a new level by which all other garage floor coatings are measured. They specialize in residential, commercial, and industrial concrete staining and floor coatings including, but not limited to garage floors, basements, warehouses, airplane hangars, showrooms, retail facilities, walkways, patios, and food preparation areas. They also specialize in concrete repair, concrete sealing and staining and sealing brick pavers and flagstone, and wood decks. For over a decade, their innovative process has been refined to ensure that your floor will have a style and sophistication that lasts for years.
About NALA™
The NALA (National Association of Local Advertisers), a small business association, is for local business owners offering new online advertising & marketing tools, great business benefits, education and money-saving programs, as well as a charity program.
Contact: the NALA
Tiffani Tendell
805.650.6121
ttendell(at)thenala(dot)com