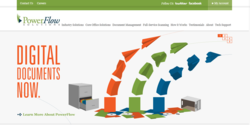 With The Net Impact, you get the benefit of working with an intensely creative team, but they have so much technical knowledge too.
St. Louis, MO (PRWEB) July 24, 2012
PowerFlow Solutions, a document management company headquartered in St. Louis, recently launched a new online image and new web design. To assist with design and development, PowerFlow selected the Net Impact, the web strategy division of Unidev software and mobile development.
"The most important aspect of PowerFlow's web design is communication," said Mandy Christanell, Senior Manager of Web Design for The Net Impact. "We actually used the web design to communicate details about PowerFlow, their software and the value they bring to customers."
PowerFlow develops a full-fledged enterprise document management software system that companies can utilize to improve operations and documentation. The Net Impact created a custom website design for PowerFlow to draw a more distinct connection between the company's name and what they do. The website design showcases paper plane illustrations, which resemble the benefits of the software. PowerFlow is nimble, quick, rapid and efficient. That core value is reflected in the website design.
"The Net Impact team really enjoyed working with PowerFlow on their rebranding efforts," said Steve Thomas, Vice President of The Net Impact. "Our companies share the same customer-satisfaction centric ideology."
In addition to the new web design, The Net Impact also conducted a competitor analysis, keyword research and helped PowerFlow write website content for search engine optimization (SEO). By analyzing data and keywords The Net Impact identified content changes that could help visitors find the PowerFlow website more easily, and ultimately could increase conversions from PowerFlow website visitors.
"With The Net Impact, you get the benefit of working with an intensely creative team, but they have so much technical knowledge too," said Ross Schumaker, Sales Executive at PowerFlow Solutions. "Their ability to provide such a well-rounded approach really makes them stand out from other web marketing companies."
With more defined conversion pathways and content targeting keywords fitted to the PowerFlow demographic, PowerFlow can successfully bring in more potential customers and continue to grow their business. The Net Impact has brought their knowledge of digital solutions and web development to the PowerFlow website.
About The Net Impact®
The Net Impact, a web marketing, web development and web design firm, is a division of Unidev®. Since 1997, The Net Impact has been a web development leader empowering clients with highly creative search engine friendly websites. Professional services include search engine and Internet marketing solutions, Internet strategy development, training, seminars and web design. For more information on The Net Impact, please visit http://www.thenetimpact.com, or call (800) 301-9589.
About PowerFlow Solutions
PowerFlow Solutions offers innovative software for digital documents, now: capture, index, archive, retrieve corporate intelligence, and automate workflow. The software incorporates new and unique technologies, setting standards for digital document management for A/P, A/R, Human Resources, Payroll, Financials, Contracts, Safety, Training, Reports, and other departments and tasks. The software is easy to understand, configure, deploy, and use: PowerFlow captures paper-based information into a customizable, electronic filing system. PowerFlow Solutions offers user-friendly software that allows instant and secure access and provides a proven disaster-recovery path. PowerFlow Solutions also operates a full-service production floor to handle one-time or ongoing scanning projects with the capability to deliver digital images in any format. For more information visit PowerFlow Solutions at: http://www.PowerFlowsolutions.com, or call: 866-840-3586.