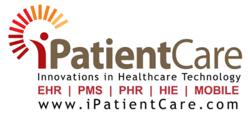 Los Angeles, CA (PRWEB) July 25, 2012
iPatientCare, Inc., a pioneer in mHealth and cloud based ambulatory EHR, integrated Practice Management and Patient Portal solutions announced today Westwind Health Services, West Hills, California choosing iPatientCare as their healthcare EHR and integrated practice management suite partner.
Westwind is prominent women's health services that includes complete gynecological and comprehensive obstetrical services. iPatientCare's EHR is designed to satisfy wide spectrum of OB/Gyn specialty needs, and together with Practice Management System, iPatientCare Unified System can help OB/Gyn practices in California establish patients' eligibility.
"We chose iPatientCare because of its ease-of-use and comprehensiveness for OB/Gyn specialty. We just could not find comparable products which would be Cloud based and yet seamlessly integrating EHR, Practice Management/Billing, and Patient Portal. iPatientCare's people impressed us of their sincerity and professionalism to serve us and our patients" said Dan Levy, Director (IT).
"I am looking forward to streamlining our workflow and implement meaningful use measures. This is very exciting" said Susan Burger, RN, MN. iPatientCare's unified system includes automatic reminders that sent to patients via the telephones or the text messages. Westwind is looking forward to leveraging such advanced features of this Awards winning Cloud based iPatientCare system.
About iPatientCare
iPatientCare, Inc. is a privately held medical informatics company based at Woodbridge, New Jersey. The company is known for its pioneering contribution to mHealth and Cloud based unified product suite that include Electronic Health/Medical Record and integrated Practice Management/Billing System, Patient Portal/PHR, Health Information Exchange (HIE), and mobile point-of-care solutions that serve the ambulatory, acute/sub acute, emergency and home health market segments. iPatientCare EHR was among the first to be certified by CCHIT in July 2006 and is currently CCHIT 2011 fully certified and ONC-ATCB 2011/2012 Certified Complete EHR for Meaningful Use. The company has won numerous awards for its EHR technology and is recognized as an innovator in the field, being a pioneer to offer an EHR technology on a handheld device, an innovative First Responder technology to the US Army for its Theatre Medical Information System, the first to offer a Cloud based EHR product. iPatientCare is recognized as one of the best EHR and Integrated PM System for small and medium sized physicians' offices; has been awarded most number of industry Awards; and has been recognized as a preferred/MU partner by numerous Regional Extension Centers (REC), hospitals/health systems, and academies. Visit http://www.iPatientCare.com for more information.
Contact:
iPatientCare, Inc.
One Woodbridge Center, Suite 812, Woodbridge, New Jersey 07095
Phone: 800-741-0981 | Fax: 732.676.7667 | Email: info(at)ipatientcare(dot)com