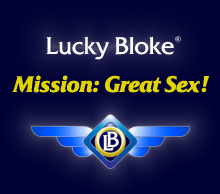 When a person wears a properly fitting condom, sex becomes both safer and more pleasurable! Once people know this, they are far more likely to consistently wear condoms." - Melissa White, Lucky Bloke CEO
Ashland, Oregon (PRWEB) July 25, 2012
Lucky Bloke believes that condom users should no longer be settling for decent sex, when they could be having amazing sex. They have launched a campaign to raise $50,000 for Mission: Great Sex! (their safe sex initiative) on IndieGoGo, in order to share this cause with anyone ready to get lucky without compromising their pleasure or safety.
Lucky Bloke is tackling the not-so-sexy in the sexiest possible way. While playful and accessible, Mission: Great Sex!'s true mission addresses two urgent and critical global health issues: improper condom use and the continuing rise of STDs.

STDs are one of the most critical health challenges facing the world today. The Center for Disease Control & Prevention (CDC) estimates that, in the United States alone, there are 19 million new infections every year;
2 out of 4 sexually active people have an STI – and most of those infected do not even know it;
STDs cost the U.S. health care system $17 billion every year – and cost individuals even more in immediate and lifelong health consequences; and,
As noted in a recent study in the journal of Sexual Health, a huge portion of condom use worldwide is ineffective due to improper use. Using the wrong size condom is the most common cause of condom failure.
"Everyone deserves to have the safest possible sex without sacrificing their pleasure," says Lucky Bloke CEO, Melissa White, in her cheeky video, which raises awareness around the issue of condom fit, safety and pleasure. "When a person wears a properly fitting condom, sex becomes both safer and more pleasurable! Once people know this, they are far more likely to consistently wear condoms."
Lucky Bloke based their current Mission: Great Sex! Campaign on a pilot program (of the same name) that they carried out earlier this year.
Given the mission to bust condom myths once and for all, 800+ participants in 21 countries provided the following feedback after completing the pilot program:
83% stated that Mission: Great Sex! introduced them to at least one new favorite condom
86% stated that Mission: Great Sex! improved and spiced up their sex … AND
96% stated that Mission: Great Sex! improved their opinion of and relationship to condoms.
With the public's help, Lucky Bloke is leveraging what they know to bring great safe sex to 10,000 new participants – through the biggest, best Sex-Ed experience of its kind.
Visitors to: http://indiegogo.com/missiongreatsex will find the Mission: Great Sex! campaign and video. Those who support the cause may choose from among many levels of perks, which include reserved slots for participating in the Global Condom Review. There are options for corporate sponsorships as well.
ABOUT LUCKY BLOKE
Lucky Bloke is pioneering a new way of thinking about and buying condoms: personalized, non-patronizing customer education coupled with very committed customer support.
At LuckyBloke.com, patrons can find a carefully researched and hand-selected assortment of premium international condoms and personal lubricants for global delivery – including Kimono, Crown, RFSU, GLYDE, FC2 Female Condom, Durex, and TROJAN condoms. The condoms (and personal lubricants) chosen are discreetly delivered for monthly subscription or one-time purchase. Lucky Bloke's condom subscription service is easy to modify, cancel, or place on hold.
As part of its commitment to social giving, Lucky Bloke donates 10% of its sales to to urgent humanitarian causes. Subscribers can choose which cause their share of sales supports. Current options include: charity: water, It Gets Better Project, and UNICEF.
LuckyBloke.com offers a free (no purchase required) Condom Concierge Service via email to getlucky(at)luckybloke(dot)com. The Condom Concierge is trained to offer comprehensive support regarding proper condom sizing, and serves as a source of comparative information regarding product specifications and attributes. The service allows for very specific, yet private, customer support.