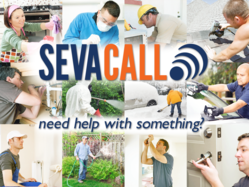 It used to take a lot of work for customers to get in touch with highly-rated local service professionals who could meet their service and scheduling needs. Seva Call makes it easy
Baltimore, Md (PRWEB) July 24, 2012
Seva Call, a free service that seamlessly connects consumers with high quality local businesses, will be celebrating its Baltimore launch in the Inner Harbor on July 24 between noon and 4 p.m. The Seva Call team will be circulating the Harbor, giving away Seva Call merchandise and demonstrating the service.
"Seva Call can make life easier for Baltimoreans," says Gurpreet Singh, CEO of Seva Call. "It used to take a lot of work for customers to get in touch with highly-rated local service professionals who could meet their service and scheduling needs. Seva Call makes it easy."
Seva Call finds the "right" professionals by considering a variety of factors, including online ratings and reviews, social reputation and interaction, call analytics, and other forms of business feedback. Baltimoreans now have access to reputable business professionals such as computer repairmen, plumbers, locksmiths, and more than 40 other categories of service professionals in the Seva Call database. Consumers simply visit http://www.sevacall.com, enter their need, location, and availability, and within seconds, receive phone calls from up to three reputable professionals who are best suited for their specific request.
Consumers often have to rearrange their schedules to accommodate service professionals. According to a study from TOA Technologies, Americans spent the equivalent of two full work days waiting for service assistance in 2011. This equates to an average of $250 per person and a total of $37.7 billion. Typically, consumers also spend valuable time researching and calling multiple businesses trying to find one that meets their specific need, location, availability, and above all, quality. The Seva Call team expects most users to get the first callback within 90 seconds from a business that can meet these specific requirements.
Seva Call, based out of Potomac, turned down funding offers contingent upon their relocating to Silicon Valley because of their dedication to serving their home state of Maryland. Maryland has always been a big part of the lives of Seva Call's three co-founders. All three hail from the Silver Spring area and received their bachelor's degrees from the University of Maryland, and CEO Gurpreet Singh and Head of Products Amandeep Bakshi received master's degrees from Johns Hopkins University.
Seva Call recently launched in Washington DC and plans to launch in Philadelphia, Boston, and New York City before the end of the summer. Free Seva Call mobile apps will be available on both the Apple iOS and Google Android platforms in the near future.