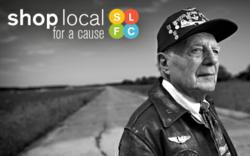 Port St. Lucie, FL (PRWEB) July 26, 2012
TGGF is a non-profit honoring WWII veterans and educating children and adults about their service. This organization is also a featured charity with the NALA, (http://www.theNALA.com), a small business association, launching Shop Local for Vets, the first campaign from Shop Local for a Cause. The NALA provides local business owners business growth opportunities through sales and marketing solutions while connecting to well-run charity organizations. Eighmie Law Firm, P.A. is one of many of the NALA's businesses throughout the country participating.
Hugh Eighmie is a Navy veteran and former Navy attorney and said of Shop Local for a Cause, "I am looking forward to participating in Shop Local for a Cause because I myself am a Navy Veteran. I pride myself in supporting The Treasure Coast, local businesses and giving back to the community while honoring our military and the people I personally served with."
Hugh Eighmie has been an attorney for over 17 years and in practice at this location since December 2011. He is the current President of the St. Lucie Bar Association, a member of the American Legion of Port St. Lucie Post 318, on the Board of Directors for United for Families and Gertrude Walden Child Care Center, and actively supports C.A.S.T.L.E.
Please visit Shop Local for a Cause to learn more or to find local businesses participating on Friday, August 17th or Saturday, August 18th. TGGF also has a Text to Donate number; one can donate $10.00 to The Greatest Generations Foundation today, by texting TGGF to 20222.
About Hugh Eighmie, Eighmie Law Firm, P.A.
The Eighmie Law Firm, P.A. mission is to provide Florida's Treasure Coast area, Martin, St. Lucie, and Indian River counties with quality legal representation in the areas of personal injury, wrongful death, divorce, child custody, foreclosure defense, veteran disability appeals, traffic ticket representation, wills, living wills and general civil trial practice.
About NALA™
The NALA (National Association of Local Advertisers), a small business association, is for local business owners offering new online advertising & marketing tools, great business benefits, education and money-saving programs, as well as a charity program.
Contact: the NALA
Tiffani Tendell
805.650.6121
ttendell(at)thenala(dot)com