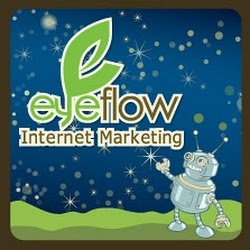 Pittsburgh, PA (PRWEB) July 25, 2012
Eyeflow Internet Marketing has been recognized as one of the Top 100 Fastest Growing Companies in the Pittsburgh area by the Pittsburgh Business Times.
Eyeflow is an internet marketing firm that serves mid size and large companies across the country, providing them with solutions to increase their online performance.
This is not the first time that Eyeflow has been honored by the Pittsburgh Business Times. In 2006, 2007 and 2008 they were named among the largest Web Design firms in the Pittsburgh area.
The Pittsburgh Technology Council named Eyeflow one of their Tech 50 Finalists in both 2010 and 2011. Eyeflow CEO Phil Laboon was honored by TEQ magazine as one of the area's 18 most successful entrepreneurs in 2010 and was a nominee for CEO of the Year that same year. Rounding out an impressive year, he was also named as a finalist for Ernst & Young's Entrepreneur of the Year in 2010.
Eyeflow began as a sole proprietorship back in 2001 and over the years has helped increase the online visibility of hundreds of clients ranging from local shops to international corporations. While the client base increased, so did the size of the company. They started locally, but have since created national reach, with clients in almost every state ranging from mid size to Fortune 500 organizations. In this time, the Eyeflow team outgrew two rented office spaces and recently settled into their own building in Pittsburgh's historic South Side.
Internet marketing has changed dramatically since 2001, and Eyeflow stayed ahead of the game by offering consistent service and never falling into the quick shortcuts that some other search engine optimization and internet marketing companies have fallen into over the years. Recently Eyeflow expanded their free internet marketing evaluation tool, SEOzio into a new version. SEOzio is for end users, but Rank Mechanic was developed so that traditional advertising agencies can tap into Eyeflow's search marketing expertise. Companies can white label this tool in order to expand their own offerings to clients and potential clients.
Now, in 2012 and beyond, Eyeflow is still expanding their reach by introducing new services and branching into new areas. They have teamed up with a new sister organization, Yellow Bridge Interactive, a web design firm that shares office space with Eyeflow. The partnership between YBI and Eyeflow allows them to rebuild or create SEO-friendly websites and mobile websites for clients in Pittsburgh and across the country.
After working to become known as Pittsburgh's top SEO company, Eyeflow is working to be a top-ranked marking firm. To reach this goal, Eyeflow is offering social media management, brand reputation management, website conversion optimization, pay per click, and other services to make sure that Eyeflow is the only internet marketing firm that their clients will need.
An event will be held at the Duquesne Club in Pittsburgh on Thursday, August 23rd to honor the winners.
To learn more about Eyeflow, visit eyeflow.com or call 866-849-0746.