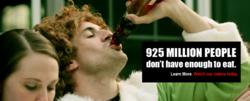 Doylestown, PA (PRWEB) July 23, 2012
On Monday, Poverty Resolutions released a new short video taking a look at the availability of food in America as compared to Haiti. The difference is enough to make you sick, literally.
In Haiti, the majority of people live on less than a dollar a day. This often allows for only 2 small meals per day, consisting primarily of rice and beans. In America, on the other hand, the average person has 4,000 calories of food available to them on a daily basis.
Poverty Resolutions recruited 9 friends to help demonstrate this disparity. The group consumed 4,000 calories each, in one sitting. The menu included 11 double cheeseburgers, 6 sticks of butter, ½ gallon of ice cream, and 2 bottles of maple syrup.
Watch the video here: http://www.youtube.com/watch?v=r0YgjgLa1QM&feature=plcp
The Food and Agriculture Organization estimates that 925 million people around the world live in chronic hunger.
This video, along with the 7 others being released throughout July and August, aims to bring awareness to dollar-a-day poverty in the developing world.
People who view this video are asked to visit http://www.povertyweek.com, a new website that provides resources for individuals and groups to organize events in their own community that promote awareness and combat global poverty.
The Poverty Resolutions and new Poverty Week websites were recently developed by web design and marketing agency FocusMX to better enable the nonprofit to spread their message. FocusMX offers marketing and website design solutions to large corporations, small businesses, non-profit organizations, and individual entrepreneurs. The site now boasts an appealing quality that strives to effectively impart the nonprofit's news and information.