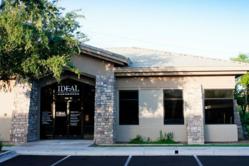 It is important that we do what we can to help our communities prevent injuries. We see a number of patients who are being treated for injuries that easily could have been prevented. These tips we put together should help with that
Phoenix, AZ (PRWEB) July 25, 2012
According to the Centers for Disease Control and Prevention, most fractures among older adults are caused by falls. The chances of falling and being seriously injured increase with age, so falls among the elderly are a very common and dangerous occurrence. Falls can cause moderate to severe injuries such as hip fractures and head traumas. Most fractures among older adults are caused by falls. Ideal Physical Therapy is aware of this and knows the risks involved when proper home safety practices aren't taken into consideration.
In order to bring to light and prevent these injuries from happening at home; Ideal Physical Therapy has compiled important and useful information into the below safety tips to minimize risks. "It is important that we do what we can to help our communities prevent injuries. We see a number of patients who are being treated for injuries that easily could have been prevented. These tips we put together should help with that," states Dan Brauning, physical therapist and Vice President of Clinical Operations with Ideal Physical Therapy. These safety tips not only help those prone to falls, but other individuals who may want to minimize their risk of injury.
Tips that will help minimize the risk of falls in the home and keep you safe.

Check for loose rugs and secure or remove them.
Minimize and reduce any clutter in the home.
Improve poor lighting.
Inspect thresholds between rooms to ensure they are level. Consider installing transition strips to provide a safe transition from carpet to tile or wood flooring.
Repair any bubbles, bulges or snags in carpeting.
Anchor all loose cords. These can be telephone, computer and electrical cords.
Use a sturdy step stool (not a chair), when you need to reach up into those top kitchen cupboards.
Some non-home related safety tips:

Ask a physician or pharmacist to review medications (both over the counter and prescribed) to reduce side effects and interactions that may increase the risk of falling.
Have eyes checked annually.
Participate in regular physical activities at any fitness level to increase strength and balance.
Additional information can be found at: Falls among older adults: An overview. (2012, February 29). Retrieved from http://www.cdc.gov/HomeandRecreationalSafety/Falls/adultfalls.html
Physical therapists can also play a role in reducing the risk. Ideal recommends working with your physical therapist to create specialized programs that address potential risks, and to outline an appropriate exercise program that improves independence and quality of life.
Ideal Physical Therapy is an outpatient physical therapy company specializing in physical therapy and hand therapy. Since 2005, they have grown to fourteen private practice locations throughout Phoenix and Tucson. Each facility is comprised of professional and dedicated physical therapists that all work towards Ideal's common goal of improving patients' quality of life through the use of their unique knowledge and skills. Their team of physical therapists spend extended quality time with patients to ensure they are comfortable with their treatment process and reaching their goals. Ideal Physical Therapy's paperless technologies allow ease of scheduling and communication for physicians and patients.
More information about Ideal Physical Therapy can be found online at http://www.idealrehab.com/.