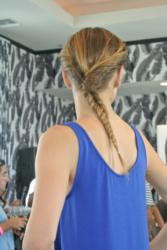 I wanted to create easily imitated looks that were appealing to today's more edgy and risk taking women
Miami, FL (PRWEB) July 23, 2012
Celebrity hairstylist and Global Brand Ambassador for LASIO Professional Hair Care, Iyana Winfield, adds the HYPERSILK touch to the Kooey Australia presentation for Mercedes Benz Fashion Week Swim Miami 2013.
Winfield used the keratin infused HYPERSILK Smoothing Balm, Wave Activator and the new Soft Hold Spray to create wet looks that incorporated fishtail braids and a standout slick back wet style.
To achieve the looks, Winfield and her team prepped the hair by brushing the HYPERSILK Smoothing Balm through sections to create a soft workable texture. For the fishtail braided look the front of the hair was finger combed and the new HYPERSILK Soft Hold Spray was used to mimic a wet look. The hair was then twisted at the nape of the neck and transitioned into a fishtail braid.
The second look, used on only one of the models, provided a contrast to the braids. Winfield was able to create a distinguished slick back wet look with the HYPERSILK Wave Activator, applied after the base application of the Smoothing Balm.
"The inspiration behind the Kooey looks was the new age young woman," stated Winfield. "I wanted to create easily imitated looks that were appealing to today's more edgy and risk taking women. With the constant exposure to ever-changing trends through social media, it was important for me to provide looks that would speak to current trends, as well as, provide style ideas for women looking to achieve right off the runway looks with HYPERSILK."
The hairstyles were a perfect pair for Kooey Australia's Opal Collection which reflected both sporty and feminine girly styles using bright neon colors and color blocking among floral prints, frills, and soft hues.
For interviews with Iyana Winfield, more information on LASIO Professional Hair Care, and product requests please contact Morisha Gaul at 718-361-0072 ext. 106 or morisha(at)lasioinc(dot)com.
About LASIO Professional Hair Care
Founded in 2000 as the brainchild of Nadine Ramos, LASIO®, Inc. began with the creation of the LASIO Keratin Treatment and LASIO Studios salon. LASIO proudly holds the title of "keratin pioneer" in the United States due to Ms. Ramos' recognition of the unique reparative characteristics of this naturally created miracle protein, in an industry previously saturated with Japanese straighteners and harsh relaxers.
Since then, LASIO, Inc. has flourished into a beauty conglomerate; introducing the world to HYPERSILK®, a miraculous line of keratin infused daily hair care products, and Keratin Tropic®, the first formaldehyde free keratin treatment. LASIO continues to grow and excel as a brand committed to providing innovative products and tools for in salon services and at home use.