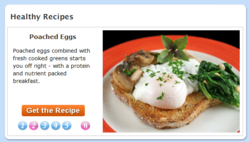 "Images have added a whole new dimension to our Recipes section, and we hope that it will help users become even more excited about healthy eating, which is really what Diet.com wants to promote." - Lauren Alford, Diet.com Director of Business Development
Brookline, MA (PRWEB) July 24, 2012
Diet.com, one of the web's leading resources for diet, fitness, and nutrition content and tools, has announced a complete overhaul of its nearly 1,200 recipe pages, updating the format of each recipe entry, adding hundreds of new recipes and furnishing the pages with over 1,000 new images.
The diet and fitness site's Recipes section, which was originally launched 6 years ago, now features colorful images with every recipe, new search functions for easy browsing, brand new navigation options, and spotlights on popular recipes and nutrition guides.
As in the past, Diet.com recipes will continue to feature the nutritional breakdown of each serving (including calories, fat, protein, carbs and more), member ratings/reviews, and easy-to-browse meal/course categories (like Appetizers and Desserts), cuisine categories (like Italian, Asian, and Vegetarian) and nutritional categories (like Under 200 Calories or Low Sodium).
"Visitors have always loved our healthy recipes, and adding images and updating the layout of the pages will give people a brand new way to view and interact with them," says Lauren Alford, Diet.com's Director of Business Development. "We've been working behind the scenes for about a year now, re-designing this all-important section of Diet.com."
With the increasing popularity of picture-sharing sites like Pinterest, Alford says that adding images to the recipes pages couldn't have come at a better time. "We wanted to provide our site visitors with a fun way to share our healthy recipes with their friends and family. Images have added a whole new dimension to our Recipes section, and we hope that it will help users become even more excited about healthy eating, which is really what Diet.com wants to promote."
To browse the new Diet.com recipes pages, head to http://www.diet.com/recipes/.
About Diet.com:
Diet.com is a multifaceted health and wellness organization that provides quality information and cutting edge tools and services to consumers and businesses alike. Since its founding, Diet.com has been a valuable online resource for dieters and those seeking information on living a healthy lifestyle. As one of the web's leading resources for diet, nutrition, and fitness content and tools, Diet.com has created a platform where consumers are able to set and track diet and fitness goals, browse over 1,000 healthy recipes, learn new exercises, and interact with others in the thriving Diet.com online community. The diethealth YouTube channel (http://www.youtube.com/diethealth) has a library of over 500 videos, over 115,000 subscribers, and has received upwards of 99 million views. For any inquiries please contact Lauren Alford, Director of Business Development, at LaurenA(at)diet(dot)com or 919-616-7532.