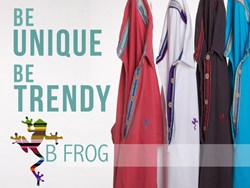 Inspire new generations
Miami, Fl (PRWEB) July 25, 2012
Handmade clothing has been in the world for generations; back in the days grandmothers knitted sweaters that their children used and nag about how in the new generation's everything is industrialized, and nothing is done the way it used to be.
Bfrog, an online apparel startup founded by two brothers inspired by beautiful Mayan textiles have the recipe of mixing handmade fabrics with industrialized textiles. Their designs include handmade textiles produced in Guatemala by Mayan artisans mixed with contemporary designs, creating unique, trendy and high-end clothing for consumers around the globe.
Handmade indigenous textiles are scarce, they tend to take a lot of time to produce and are expensive. This company not only offers a unique clothing style but also the opportunity to help children in need. Bfrog in alliance with "Save the Children" charity, donate part of its sales to children in need supplying them with food and education.
Bfrog founders hope to preserve these beautiful textiles and to inspire new generations to value their inheritance and show them to the world.