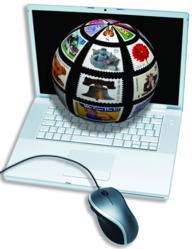 Social media enable collectors to keep in touch with each other and share favorite stamps, stories, advice, techniques, etc., offering a vast pool of information to both the beginning and advanced collector.
Bellefonte, PA (PRWEB) July 25, 2012
Today, the possibilities are limited only by the collector's interests and imagination. A stamp collector can spend time exploring outer space, travel around the world or across the United States, follow their favorite sport, immerse themselves in the travels of ancient or modern mail, or just spend some quiet time arranging flowers (on stamps, of course!). And the American Philatelic Society opens a doorway to some of the technology to make this easier and more fun.
Stamp collecting can be and often is combined with other hobbies to the enrichment of both. Genealogists have long known the value of letters and postcards when studying family history, but don't forget the fun side. A family vacation can be made more memorable by sending letters or postcards home with postmarks from special places along the way.
And consider the tools that modern technology has brought to the table:

With a computer and some graphic software, stamp collectors can design and print their own album pages, or they can chose to download some of the many ready-to-use albums that are available online. The American Philatelic Society has more than forty free downloadable albums ready for the collector. The topics range from Sports (fishing, the Olympics, and baseball) to Space, from the glamor of Hollywood to the wild beauty of National Parks, from State histories to the too often little known contributions of minority groups within America's melting pot. These topics and more albums are available at http://www.stamps.org/Free-Album-Pages.
The Internet has made looking for and buying stamps is easier than ever before. The APS has more than 600 dealer members whose contact information can be found at http://www.stamps.org/Dealers. The listing is searchable by collecting topic, such as Olympics, and by geographic location. Stamp shows and local stamp clubs are two other good sources for stamps and information (http://www.stamps.org/Show-Calendar). The local post office and the mail delivered to private homes or businesses continue to be a good source of stamps.
Social media enable collectors to keep in touch with each other and share favorite stamps, stories, advice, techniques, etc., offering a vast pool of information to both the beginning and advanced collector. Check out America's Stamp Club online at http://www.stamps.org. The American Philatelic Society also is on Twitter, Facebook, LinkedIn, Pinterest, and YouTube. Stamp collecting is everywhere!
$ Taking the plunge into stamp collecting is a breeze with the educational opportunities offered by the APS at http:/stamps.org/Education. There beginners will find loads of free information, plus opportunities to take online courses such as Basics of Stamp Collecting. For those who prefer their learning hands-on and in person, the APS offers a growing variety of "on the Road" courses, which are held at different cities around the country. Beginners who are interested in specializing can request one-on-one assistance the APS Mentoring Service.
Young collectors will find a treasure trove of their own with the APS Just for Kids webpages (http://www.stamps.org/Young-Philatelists. There are collecting tips, fun activities, an online "virtual" club (Young Stamp Collectors of America), real time clubs (All*Star Stamp Clubs), and for older youth, Young Philatelic Leaders (ages 13–25). There is also a link for the American Topical Association's Youth Pages.
Who are some of today's collectors? They can be any age and they come from all walks of life. A few collectors you might recognize include ESPN basketball personality and former Notre Dame coach Digger Phelps; financial gurus Bill Gross and Warren Buffet; astronaut Henry Hartsfield; actors Gary Burghoff, James Earl Jones, and Patrick Dempsey; authors James Michener and Lawrence Block; explorer Jacques Cousteau; former Wimbledon tennis champion Maria Sharapova; musicians John Lennon, Freddy Mercury, and Ron Wood; and cartoonist Gary Trudeau.
It has been said, "Nothing exciting happens inside your comfort zone." So step outside and take a chance on an old hobby that is new again. Start collecting!