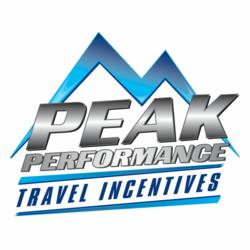 We've seen travel used for increasing sales, recognizing performance or tenure, building morale and so on.
Jamison, PA (PRWEB) July 25, 2012
Bruce L. Rickert, President, of Peak Performance Services, Inc, announced today the launch of the company's new website, offerings and name change. Formerly known as Peak Performance Meetings & Incentives, a meeting and incentive travel planning company, the new brand has been rolled out as Peak Performance Travel Incentives. "All the planning capabilities outlined in the old site are still there but we have expanded the site with tools guiding the potential consumer through the process of identifying the right travel platform for their company objective", states Rickert. In talking with our clients, travel has consistently been an effective employee motivator. We've seen travel used for increasing sales, recognizing performance or tenure, building morale and so on. What often happens is a company that has had annual incentive trips in the past, finds themselves stale with travel destination ideas. They don't know where to begin and with the thought of travel being too expensive or extravagant, the internal sell through to executive teams can be a challenge.
Peak Travel Incentives designs different formats for different needs from the group sales incentive or product meeting to the teambuilding event or individual reward. "It's all about travel and anytime you take an employee out of their office, it's a financial investment so you want to get it right.", said Rickert. "With some probing questions and research conducted by Peak, the right travel format for what you are trying to accomplish can not only be affordable, but will generate revenue."
The idea of the new website is to guide the consumer through the process by creating useful and informative tools like the Peak Your Interest Challenge and 360° Experience Mapping. These tools begin the process of helping to clarify the incentive initiative even before Peak has a conversation with you. The website also provides travel incentive ideas, informative blogs that spotlight destinations and venues in detail and articles such as: 5 Reasons Incentive Travel Outperforms Cash or Merchandise.
According to Bruce Rickert, the online tools are just the beginning, and an important step toward designing the best employee travel incentive program that will improve all-around company performance – and because of Peak's pro-active planning approach, we have expanded our office space to hire more Peak Pro staff to insure unparalleled personal service in the travel partnership relationship.
To explore the travel format that makes sense for your company be it group, individual, meeting or a teambuilding event, go to: http://www.peaktravelincentives.com, and get your process started with one of our Peak Pros today!
About Peak Performance Services, Inc. (PPS)
Peak Performance Services Inc. is an incentive travel, tour and meeting management company headquartered in Jamison, Pennsylvania servicing customers worldwide. Founder and CEO Bruce Rickert began PPS in 1997 primarily as a tour and onsite management company, but in 2006 expanded the organization with PPS Meetings and in 2012 expanded on the service with Peak Performance Travel Incentives. The incentive travel services arm of the company focuses on customized travel incentives for corporate groups using travel as a way to build teamwork, increase sales, thank top achievers and reward valued clients.
Contact:
Bruce L. Rickert, President
Peak Performance Travel Incentives
(888) 788-9078
info(at)peaktravelincentives(dot)com