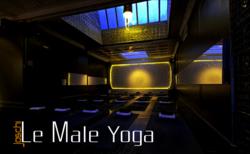 Offering an urban yoga retreat in New York City is the perfect getaway for men who want to initiate a lifestyle that liberates, expands and energizes, says Schwarz, Owner of Le Male Yoga in NYC
New York City, NY (PRWEB) July 24, 2012
The thought of joining a yoga retreat is usually associated with a tropical destination, relaxing in a hammock, listening to the sounds of nature in paradise and enjoying beach activities.
Le Male Yoga, New York's first and only Yoga Studio for Men, recently opened its doors in the heart of Chelsea and is taking yoga retreats to the next level by offering unique, experience-oriented retreats and workshops in New York City.
Finding peace of mind seems easier in a calm environment, but the most authentic transformation happens in the real world. Learning to engage with and integrate the world as it is, accept it and remain steady is key for a happy and fulfilled life. When one can learn to remain balanced in the midst of chaos and irregardless of conditions, one is a true yogi.
Le Male Yoga's urban retreats in New York City combine the magic and calmness of a yoga retreat with time to experience life as a 'New Yorker' for an inspiring and liberating adventure for men from all around the world.
About Le Male Yoga's New York City Retreats:
The perfect getaway for men!
Led by Joschi Schwarz and his team, participants learn how to become one with themselves and how to discover the connection between love and meditation in this unparalleled city rich in history, splashed with magnificent architecture and never-ending energy. The goal is to open the body, mind and soul to embody greater awareness, confidence, pleasure and joy in each and every moment.
Le Male Yoga has put together a distinctive program where participants will change forever the experience of sensual loving, and give themselves the opportunity to explore how energy can heal their body, open their heart and expand their soul.
Participants will engage in a daily morning and afternoon Yoga and Meditation practice while consciously exploring issues that arise in Le Male Yoga's inspirational lectures. Joschi Schwarz offers reflective guidance and support to deepen students relationship with themselves while connecting more profoundly with others.
About Joschi Le Male
NYC's Premier Yoga Studio for Men. Le Male Yoga's style of yoga - Vinyasa (Flow) - is for men with a good level of physical fitness who are interested in building strength & flexibility and enjoy a unique opportunity to connect with a vibrant mix of men from all flows of life who are looking to initiate a lifestyle that liberates, expands and energizes!
It is Le Male Yoga's mission to unite men in a comunity of support, inspiration, and camaraderie; to foster friendship by offering a fun, judgment-free atmosphere.
In line with the goal of creating an open, inclusive environment for gay and straight men and their families, La Female friendly, some of the classes are co-ed, so members can share your experience with their best friend, their sister, their confidant...
As an experienced and internationally recognized Yoga Alliance Registered School Joschi Schwarz and Monika Werner are dedicated to share their knowledge with men and women in Yoga Teacher Training Certification Programs.