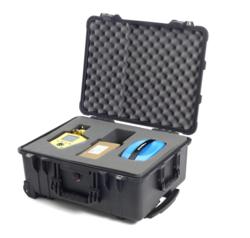 (PRWEB) July 25, 2012
Spectro, Inc., a leader in analytical instrumentation and software for machine condition monitoring, has created a portable, solvent free, field toolkit that combines both kinematic fluid viscosity and direct infrared spectroscopy solutions. The portability of the combo kit enables immediate decision making by bringing the functionality of powerful analytical tools from the laboratory to the field.
"Now in one, convenient, lightweight package, maintenance personnel can get a more comprehensive status about lubricant conditions," said Brian Mitchell, president and CEO. "This combination kit is the only hazmat-free solution available, and is a helpful logistical tool for those working in power generation, transportation, marine, mining, construction and oil exploration,"
The kit combines the technologies of two of Spectro's most popular portable products – the FluidScan® Q1000 and the SpectroVisc Q3000. The patented FluidScan® Q1000 is a handheld lubricant condition monitor designed for on-site analysis of lubricant condition and contamination. It represents the latest technology in direct infrared spectroscopy and quickly checks the status of hydraulic fluids, engine oils, turbine oils and gear oils for degradation and the presence of contaminants. Infrared spectroscopy is a technology that has found wide acceptance as a primary test for lubricant degradation and contamination.
SpectroVisc Q3000, introduced last fall, is the world's first truly portable, solvent-free, temperature-controlled kinematic viscometer. It uses a patented split cell capillary (SCC) technique which allows the user to measure kinematic viscosity from only a few drops of oil, and no solvents are required for cleaning. Sample analysis is easy using a guided testing process, making the viscometer ideal for fast kinematic viscosity measurement in the field.
"Spectro's new combo kit enables the analysis to be done at the asset and provides immediate feedback on critical properties, making it possible for users to extend oil change intervals, reduce operational and maintenance costs, minimize unscheduled maintenance and help to avoid catastrophic equipment failures," said Mitchell.
# # #