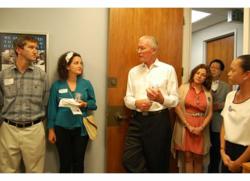 San Francisco, CA (PRWEB) July 24, 2012
The American Dental Association (ADA) asked The Blende Dental Group and other practices around the country to participate in helping address the issue of oral cancer. Dr. David Blende gives his professional tips on avoiding oral cancer, in response to some important questions raised during the recent community discussion held by the San Francisco sedation dentist.

Early detection of oral cancer can save lives.
At The Blende Dental Group, we urge everyone to get screened for oral cancer. There are more than 35,000 new oral cancer cases every year and this is the fifth year in a row that thenumber has increased. The mortality rate for oral cancer is higher than that of skin or cervical cancer, yet many people are more aware of the risks involved with those diseases.
We especially encourage those at risk for the Human Papilloma Virus 16 (HPV-16) to get screened. In the past, we saw oral cancerprimarily in patients who smoked - or chewed - tobacco, or among those who drank heavily (over 3 drinks a day). Now we're seeing it more and more in younger patients, generally caused by a jump in HPV-16 cases.
Ask about your oral care professional's screening process.
Trained professionals can often detect the early warning signs of oral cancer. Lorna Smith, one of our dental hygienists at The Blende Dental Group, is trained in visual and tactile identification of oral pathology and believes in the importance of educating patients about her process.
She follows a series of steps in the oral cancer screening process that help her thoroughly inspect the patient's tongue, lips, palette, neck, throat and entire mouth for any abnormal signs that may point to cancer. During the screening, Lorna looks for swelling, ulcerations, lumps, nodules, sores, white or red spots, and any unusual marks, which could possibly indicate cancer.
During our recent community event, I asked our guests who had been screened for oral cancer and it seemed that no one was sure whether they had or had not. It's important to visit the dentist and/or the ear, nose and throat doctor (ENT) regularly to be screened for oral cancer, so you can be sure about your oral health.
It is recommended that patients receive an oral cancer exam at each dental visit. We conduct these oral cancer screeningshere at The Blende Dental Group within the first 15-20 minutes of a patient's regular hygiene or new patient appointment, and explain the screening steps. In addition, we provide them with a written record of what was done during their appointment, which includes the oral cancer screen and notification of any findings.
Oral cancer screenings are performed by ear, nose and throat doctors (ENT), oral surgeons and dentists. Dentists are well-positioned to perform oral cancer screenings, because patients typically visit their dentists on a semi-annual basis but rarely visit an ENT or oral surgeon.
For more information about The Blende Dental Group's ability to individualize treatment for their patients call (415) 563-4261 or toll free at 1-800-575-3375 during normal business hours, or call 1-877-HOUSE-07 (1-877-468-7307) for dental emergencies 7 days a week, 24 hours a day.
The office of San Francisco special needs dentist Dr. Blende is located at 390 Laurel Street in Presidio Heights. Visit http://www.blendedentalgroup.com/ to make an appointment and view The Blende Dental Group's full range of services. If you are active on social media, feel free to stay in touch with their educational campaigns and events via Facebook.
About The Blende Dental Group
The Blende Dental Group is the Home of the House Call Dentists. Focusing on special needs dentistry in San Francisco, they serve both general patients and individuals with special needs, including seniors, phobics and those with disabilities (behavioral, cognitive, medical or physical challenges). This medical-dental group has over 40 years combined experience. They are able to address a diverse range of patients by individualizing treatment, either Awake (in-office), Asleep (under general anesthesia at one of eight Bay Area hospitals where they are on staff), or At Home (in the patient's home anywhere within a 60-mile radius of San Francisco). The Blende Dental Group has earned its reputation as a national leader in the treatment of patients with special needs by safely and successfully completing thousands of complex cases. Their vision is to remove barriers to receiving dental care. Their mission is changing lives one smile at a time: Awake, Asleep, or At Home.
The Blende Dental Group, specializing in sedation dentistry in San Francisco has been featured in USA Today Weekend, the San Francisco Chronicle, Exceptional Parent, the Alzheimer's Association newsletter and Ability magazine, among other publications. They have also been featured on ABC 7 (KGO) News with Dr. Dean Edell, and on NBC (KNTV) San Francisco Bay Area News.