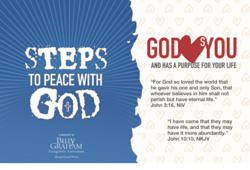 The unique design of this tract makes it easy for youth to share their faith.
Jamestown NC (PRWEB) July 24, 2012
Memory Cross has partnered with the Billy Graham Evangelistic Association to create an origami folding Christian tract for Dare to Be a Daniel. The tract contains four panels and is die cut in such a way that it never stops folding.
Dare to Be A Daniel, which helps young people learn to share their faith, found the interactive nature of this tract helped young people talk about God. The card is so different from anything else that kids enjoy showing it to others. That in itself makes it a good witnessing tool for young people. Dare to be a Daniel offers a variety of training options to help kids 9 - 14 learn to share their faith.
Company Information: Memory Cross creates fun origami tracts that are used to share the Gospel and teach children the Bible. In addition to custom tracts for ministries, Memory Cross also makes a number of tracts for children, teens and adults. They are available in English, Spanish and a wordless version for mission trips. Each card features four panels that never stop folding. Launched in 2007 Memory Cross' goal is to design tracts that share the Gospel in a format that grabs attention and excites people who receive them.