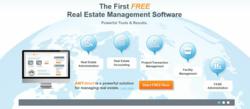 Charlotte, NC (PRWEB) July 26, 2012
AMTdirect, the leading software provider to the commercial real estate industry, announces the first ever free software for managing commercial real estate assets. Now, companies of all sizes can realize breakthroughs in managing their real estate portfolios. Being a large and growing industry, small retail companies gain access to enterprise-class solutions that previously were mostly reserved for large retail companies with big budgets. Large retailers that may have held back from automating real estate management because they were waiting to be sure of the cost/benefits can now get on board at no cost.
Through AMTdirect, retailers can begin to create smart strategies to successfully align store portfolios and overall contract management in order to shift the focus to actual business growth.
"It's really just that easy," says AMTdirect CEO Scott Schubert. "People download free apps for their smart phones and tablets -- we think it's time to bring this concept to the world of sophisticated business apps. We have "freed the software" by making a robust, full featured version of our proven solution available for no charge and without any of the hassles of a software sales and evaluation process. Once we prove our value and earn our customer's trust we hope that many of them will then buy additional solutions from us in the form of low-monthly-cost add-on capabilities. However, we are delivering a complete solution, for an unlimited number of properties, for absolutely no charge."
Please visit the AMTdirect website (http://www.amtdirect.com).
About AMTdirect
Since 1996, AMTdirect's sole mission has been to develop great real estate management software, make it simple, cost effective and accessible to everyone in the world. By continuing to perfect software since day one, AMTdirect has created an industry leading solution that gives companies full access to their real estate portfolio in one central Cloud system. Clients include leading companies in the retail, healthcare, higher education, financial and real estate management industries.