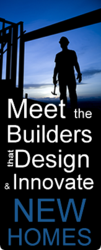 The difference between producing average numbers and market leading results can lie in your online strategy which is where builders rely on Build Idaho.com
Boise, ID (PRWEB) July 30, 2012
Schaffner Fine Homes has been building in Boise Idaho for 25 years and now that the market has returned, Dennis Schaffner is launching a online marketing campaign that includes BuildIdaho.com and YouTube.
Schaffner Fine Homes has won many Boise Parade of Home awards for his creative designs, finishes and decorations. The Boise Home Builder is experienced in building custom homes but also has built homes to sell, mainly upper end homes.
As the Boise Idaho real estate market continues to become more competitive, builders such as Schaffner, are looking to BuildIdaho.com and Trey Langford, Founder, to help create an online presence.
About BuildIdaho.com
Does your company have a marketing strategy? An integral part of this is your organization's internet strategy. The difference between producing average numbers and market leading results can lie in this one strategy. For many organizations developing and implementing a world-class internet strategy, social marketing campaign, and web-site are difficult at best. Most organizations, by the numbers, do not do these well or even know where to start. Enter Buildidaho.com, Idaho's #1 internet site for new home buyers, builders, developers and their partners. What Buildidaho.com provides is the leading internet and web site consulting and development services, search engine optimization, and social marketing including video.
So how does BuildIdaho.com differ from other internet consulting companies: price, service, experience, and results. Buldidaho.com is the only internet consulting firm who specializes in the home building industry. Build Idaho dominates the search engines for new subdivisions, home builders and new construction searches. It also is also consistently ranked in the top 15 search results for 'real estate' and 'homes for sale' searches. It is not the only site with video but one of the few with local interviews of industry professionals and video tours with commentary.