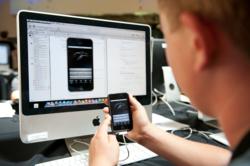 We give our campers the tools to not only find and explore interests, but also encourage them to transform their passions into future careers.
Campbell, CA (PRWEB) July 25, 2012
Bridging the digital divide has proven to be one consistent mantra of iD Tech Camps. The summer technology education leader has once again partnered with Breakthrough Austin to send low-income students to camp this season.
Fully promoting STEM (Science, Technology, Engineering, and Math) education through each and every one of their courses, iD Tech Camps is opening doors for ages 7-18 to learn fundamental tech skills; doors that might have never opened for some of the nation's youth.
"This camp allowed me to experience something that most of my friends and family – even those who are older than me – have never experienced," says Jesus, a Breakthrough Austin student who has attended iD Tech Camps. "I had fun, made friends, and learned programming."
Walking through the St. Edward's University halls on a sun-soaked afternoon, one might expect to find the Austin campus empty. Instead, iD Tech Camps is occupying the school's facilities, where Jesus and other campers have explored personal technology passions; building expertise that will propel them through college and future careers. Breakthrough Austin serves more than 600 students, each of which would be first-generation college graduates.
"Because of iD Tech Camps, I'm now interested in filmmaking," adds Bridget, another of Breakthrough Austin's iD Tech campers. "I just emailed a teacher of mine to ask about signing up for film class this upcoming school year."
Breakthrough follows a "do whatever it takes" philosophy, embracing a combination of rigorous academic summer programs, year-round after school and Saturday programs, and individualized case management to guide students every step of the way to college graduation.
iD Tech Camps and iD Teen Academies also realize that a full and complete STEM education must come from something more than just classroom textbooks. Hands-on learning is paramount, as university admission is becoming more and more competitive. Universities are looking for more than just good test scores.
"We give our campers the tools to not only find and explore interests, but also encourage them to transform their passions into future careers," says Karen Thurm Safran, VP of Marketing and Business Development, who works at the frontline with Breakthrough Austin and other non-profit organizations. "Students take their passions further after attending our programs, becoming school leaders and eventually pursing a secondary education focused on their area of interest. The glimmer of excitement we see in their eyes is incredibly rewarding."
Both Jesus and Bridget are but a couple of the many inspiring stories stemming from the iD-Breakthrough Austin partnership. With a new-found access to technology, students who used to only be able to view the benefits of STEM from afar are now experiencing payoffs up close and personal. internalDrive is doing their part to make sure many others will soon follow, traversing the digital divide once and for all.
ABOUT iD TECH CAMPS AND iD TEEN ACADEMIES
iD Tech Camps and iD Teen Academies engage students in STEM education with summer programs for kids and summer programs for teens held at 60 prestigious universities nationwide. Learn how to make iPhone® apps, how to create your own video game, how model 3D animations with Autodesk® Maya®, how to build a website with Flash®, and more. Sessions are weeklong, day and overnight for students ages 7-18. Learn essential technology skills in small classes while attending sessions held at universities such as Stanford, UCLA, Princeton, and more. Teens preparing for college can build online portfolios and explore future career paths at iD Gaming Academy, iD Programming Academy, and iD Visual Arts Academy. Visit http://www.internaldrive.com or call 1-888-709-TECH (8324) for more information.