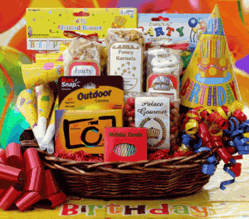 This summer sale is sizzling, with discounts of more than 20% off!
San Francisco, CA (PRWEB) July 23, 2012
Gift baskets for kids and children continue to enjoy the spotlight at online retailer as its "summer madness" sale continues. A visit to the company's website section just for children at: http://www.mygiftbasketideas.com/gift-baskets-for-kids.html reveals generous savings on a wide range of items specifically crafted. Some items were noted as being reduced by up to 27%.
Following on from the consultation earlier in the year in which customers indicated greater interest in sales occurring in May and June, the company has continued with its assault on prices.
A company spokesperson from the company, My Gift Basket Ideas, comment on the sale.
"In the true spirit of the summer season, we like to give customers what they want. They wanted greater options available on sale for kids, and they want them in May and June. It is our pleasure to make exactly this request available, as we announce a 'summer madness' discount on children's themed gift baskets. Included in the promotion are great new products, such as Hippity-Hop Bath Time Gift Set, which is sure to make shower time a hit with your little one. While stocks last, this fun choice is reduced by a massive 21%."
Lucy Cobb, from St. Paul, MN is a customer of the website. She expressed her excitement at the announcement.
"I have three sons and four nephews and nieces, three of whom have birthdays in June and another two in July. I'm happy to hear about the timing of this sale, as it means I can get ahead and choose some great options. With the added discounts, I have a wide selection with no danger of running out of choices. My kids' favorite is the Gift Baskets for Boys section, available on the site - it makes a perfect gift for them to enjoy together!"
View all of the available items in the sale at http://www.mygiftbasketideas.com/.
###