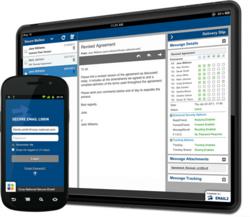 The Secure Email Android app helps maintain compliance on company-issued or personal smartphones and tablets
(PRWEB) July 24, 2012
Email2 SCP Solutions, Inc., the leader in user-friendly email encryption and secure file transfers, today announced the launch of the Android app for its Secure Email platform. Compatible with all Android smartphones and tablets, the app lets companies extend Email2's powerful Cloud encryption and compliance services to Android users at no additional charge.
Email2 Secure Email for Android lets users create, read, track and reply to encrypted messages on any Android device. As a Cloud-based native solution, the app requires no enterprise installation while still ensuring global administrative control and enforcement of compliance policies. No private data is stored on devices using the app, so confidential information is well protected in the event the device is lost or stolen. The Secure Email App is available for free on Google Play to all licensed users.
Regulations such as HIPAA, PSQIA, PCI DSS, Sarbanes-Oxley, Gramm-Leach-Bliley, FINRA Rule 8210, NHS security policy and many others specify strict requirements for the protection of confidential and personally identifiable information (PII). These regulations include clear guidelines for protecting such information during transportation and storage. The Secure Email Android app helps maintain compliance on company-issued or personal smartphones and tablets, reducing the risk of data leakage with minimal administrative effort and technical impact. In the "Bring Your Own Device" era, such protection is increasingly important.
"Android is the fastest growing mobile operating platform in the world," says Email2 CEO Thierry LeVasseur. "If it isn't officially supported by your IT department yet, it will be soon. The release of the Secure Email App for Android is a product of our focus on eliminating the workload and effort typically associated with deploying – and adopting – encryption and secure file transfer. Through this app, our customers can ensure that all their Android devices are provisioned with dependable protection that is effortless to use."
About The Email2 Secure Email Platform
Email2's Secure Email platform is a patented, enterprise-grade encryption and file transfer service that connects seamlessly to any email infrastructure and requires virtually no user training. It combines unique end user benefits including forwarding control, message tracking, message recall and more. Users can send confidential information securely to any email address from any desktop, laptop, tablet or smartphone – corporate or BYOD – without having to install any software or hardware. Internal and external recipients do not need any plug-ins or other software to view encrypted messages.
About Email2 SCP Solutions Inc.
Email2 delivers cloud-based encryption and large file transfer services designed for maximum security and minimum effort. We are the platform of choice of top managed service providers, systems integrators, EMRs and hosted Microsoft Exchange® resellers worldwide including AppRiver, Fujitsu, Axoft and others. The unique, patented architecture of the Email2 platform enables rapid, seamless installation and deployment, delivering lower total cost of ownership, protection of investments in current email infrastructure, and long-term scalability and flexibility. It also features API integration options ideal for the Cloud and channel distribution, allowing OEM partners to create uniquely branded solutions. For businesses that need to guarantee the security and confidentiality of email and attachments, encryption has never been as accessible.