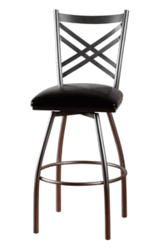 We are thrilled to welcome the Alexander Stool to our collection
San Francisco, CA (PRWEB) July 24, 2012
The Alexander Stool by American Heritage is now available from BarStoolsForLess.com. The announcement has been well received by customers of the website. One such shopper, Sophie Adams, from Flagstaff, AZ commented on the news with excitement, stating, "I love acrylic usually, but this classically elegant high-gloss, bonded metal and leather finish is irresistible."
The customer continued, "It will make a beautiful contrast to my last purchase, which was modern and minimalist Viva stool by LumiSource, another favorite designer of mine. Even though the Alexander seems a bit more traditional, it's quite simply styled so remains very practical and versatile."
The viva stool can be viewed at http://barstoolsforless.com/bs-viva-acr-c.html.
A review of the BarStoolsForLess website revealed that the Alexander stool features a sturdy back and fully-adjustable swivel to 360 degrees rotation, available in two heights; 24 inches and 30 inches.
A company spokesperson from Bar Stools for Less welcomes the new addition.
"We are thrilled to welcome the Alexander Stool by American Heritage to our Summer collection. American Heritage are makers of quality, timeless pieces that provide the comfort trough detail-oriented structural engineering."
When asked to explain the decision to introduce such a traditional item after several new minimalist pieces fashioned from more utilitarian fabrics such as chrome and acrylic, the spokesperson countered this perception.
"Actually, the Alexander stool appeals to much the same buyer. Its clean lines and uncluttered shape make it a perfect companion piece with other kinds of stools. What's so great about the Alexander is that its composition is a hybrid of many popular materials, making it a true catch-all stool in a room of many different textures. It can really help pull the room together."
The spokesperson continued, "We encourage our customers to be bold and redefine their stylistic interpretations by mixing and matching with designs. Have fun with it!"
The Alexander stool can be viewed at http://www.barstoolsforless.com/alexander.html. It is currently retailing with a 21% promotional discount.
###