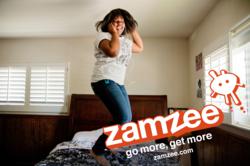 Finding time to get moving together daily can be tough. Zamzee is a fun way to measure and reward physical activity, and the Presidential Active Lifestyle Award provides great goals for families to achieve. -Ron Glotzer, Director of Strategic Partnerships
Redwood City, California (PRWEB) July 24, 2012
Zamzee is partnering with the President's Challenge Program to help kids and families make physical activity a fun, rewarding part of daily life. The Zamzee activity meter and website use technology to help jumpstart family physical activity and to motivate kids and parents to achieve the goals of PALA+, part of the Presidents Challenge Program. PALA+ is the next phase of PALA (Presidential Active Lifestyle Award), a program of the President's Challenge, designed to motivate Americans to make physical activity and healthy eating part of their everyday life.
With its Family View feature, Zamzee gives kids and parents an easy way to measure activity for each individual family member and view summary information on everyone. Parents can also set activity goals for kids and watch their progress towards achieving them.
"In the hectic lives of American families, finding time to get up and get moving together on a daily basis can be tough," said Ron Glotzer, Director of Strategic Partnerships at Zamzee. "Zamzee is a fun way to measure and reward physical activity, and PALA+ provides great goals for families to achieve. We are honored to partner with the program and to support the goals of PALA+."
Zamzee is an online rewards program powered by physical activity. To earn rewards, kids wear the Zamzee activity meter, a three-axis accelerometer specially calibrated to record short bursts of movement as well as vigorous activity. Physical activity recorded by the Zamzee meter powers a kid's online account at zamzee.com. Early research shows that the Zamzee experience increases kids' physical activity by 30% or more on average – the equivalent of running nearly an extra marathon a month. Zamzee is a scientifically proven, award-winning product recognized with the "Best Use of Gamification in Health & Wellness" award at the third annual Gamification Summit in San Francisco in June.
In support of First Lady Michelle Obama's Let's Move! initiative to end childhood obesity within a generation, the President's Council on Fitness, Sports & Nutrition is challenging Americans of all ages, abilities and backgrounds to achieve PALA+. The physical activity requirements for PALA+ remain the same: 60 minutes/day for kids, 30 minutes/day for adults, five days a week for six out of eight weeks. The new nutrition component requires participants to add a weekly healthy eating goal and build upon those goals throughout the same six-week period. Individuals who achieve the physical activity and healthy eating goals will receive a certificate signed by the Council co-chairs.
About Zamzee
Zamzee is a social enterprise on a mission to make it easier for kids and families to be more physically active. The Zamzee activity meter and website are the result of several years of research, creative thinking and design based on feedback from kids and families. Zamzee was established in 2010 by HopeLab Foundation, a nonprofit research organization that uses the power and appeal of technology to improve the health of kids. Initial research and development of Zamzee was conducted by HopeLab, with support from the Robert Wood Johnson Foundation. HopeLab and Zamzee are part of the Omidyar Group philanthropic enterprises. For more information, please visit zamzee.com.
About the President's Challenge Program
The President's Challenge is the premier program of the President's Council on Fitness, Sports and Nutrition administered through a co-sponsorship agreement with the Amateur Athletic Union. The President's Challenge helps people of all ages and abilities increase their physical activity and improve their fitness through research-based information, easy-to-use tools, and friendly motivation. For more information about the President's Challenge or the Presidential Active Lifestyle Award, visit http://www.presidentschallenge.org.