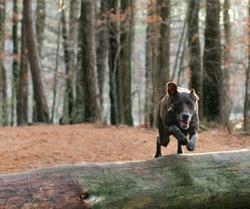 Our dogs try to be troopers to please us, and they often mask the early signs of overheating
Wilton, CT (PRWEB) July 24, 2012
Clear Conscience Pet, the inventors and manufacturers of SuperGravy Holistic Pet Gravy Mix, has created fun new hot weather recipe YouTube videos using natural chews and SuperGravy to make frozen, natural and healthy cat and dog treats at home. At the same time, the company has announced the Super Pet Photo Contest and promotion to catch pets in action this summer. The contest allows each entrant to submit a photo through their Facebook account and voting will be done through the Clear Conscience Pet Facebook page. All entrants will be rewarded instantly with a coupon code for a special one-time savings of 15% which will help consumers who would like to try the frozen treat recipes to get started.
"Summer is when we spend the most time being active, and we wanted to encourage folks out there to catch their animal companions doing something SUPER fun," said Amanda Bennie, Clear Conscience Pet's Co-Founder. "But at the same time, we are very aware that the heat affecting lots of areas in the nation can be very difficult for pets, especially those who are normally very active and must cut back on some of their activities in extra hot and humid weather."
The company advises that families closely monitor their pets when outdoors, even when taking a normal walk if it is in the nineties and above with high humidity. "Our dogs try to be troopers to please us, and they often mask the early signs of overheating," said Anthony Bennie, the other Co-Founder. "If your dog is panting heavily, but no water is coming out of their mouths, they may be dehydrated; this is a dangerous condition and you should get your dog water immediately and into an air conditioned environment to cool down. "
"Exercise is still very important so you don't want your dogs to become couch potatoes," said Amanda Bennie. If you can get up bright and early to walk and play with your dogs before the heat becomes too intense, you can keep them fit while protecting them from the worst of the heat." Swimming is a great option if you have a pool or safe lake in your area, but use a life jacket if you are not sure about your dog's swimming ability. Not all dogs are natural swimmers and dogs can get into trouble in water just like people can.
And remember, outdoor cats may be under special stress in these conditions. Keep an eye on them and encourage them to spend the hottest midday hours in the house.
"We want everyone to have a great time with their animal companions this time of year, so enjoy some of our frozen treat recipes, use good judgment as to the level of activity and time of day to exercise, and you can have fun while still keeping your pet safe." The photo contest has been extended to August 14th and awards range from a 6-month supply of SuperGravy (or any 6 items from our lineup) to the runners up receiving a 2 or 4-month supply of SuperGravy (or any 2 or 4 items from our lineup). All entries will get their photos posted on the Clear Conscience Pet Facebook page.
About Clear Conscience Pet®, LLC
Clear Conscience Pet® is the first pet nutrition company founded with the mission of using humanely sourced meat ingredients from sustainable family farms to make exceptionally healthy treats, chews, and food enhancing gravies. The company's current products (clearconsciencepet.com/products) include the patent pending OSV™ treat and chew line, SuperGravy®, the first Holistic Instant Dry Gravy Mix and Nutrient Enhancer for pets, and Cruncherz™ Gluten & Grain-Free Bakery Treats. The company is based in Wilton, Connecticut and is family-owned by Founders Anthony Bennie and Amanda Malone Bennie. They currently market their pet food products to pet supply retailers, veterinarians, health food stores, and other pet specialty outlets.
Web address: http://www.clearconsciencepet.com
Facebook page: http://www.facebook.com/Clear.Conscience.Pet.LLC
Video interviews with Founder, Anthony Bennie: visit:
http://www.clearconsciencepet.com/ccp-tv