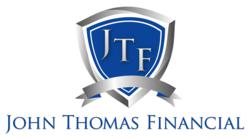 New York, NY (PRWEB) July 24, 2012
John Thomas Financial CEO Thomas Belesis appeared on CNBC's "Closing Bell" on July 18, 2012 to discuss Wall Street's recent rally and the earnings reports that may have prompted it. Belesis, who spoke with hosts Maria Bartiromo and Bill Griffeth alongside industry peers and thought-leaders, expressed optimism in the markets and economy as a whole.
"64% of earnings beat – only 18% missed," he noted, referring to S&P companies that had already reported on the second quarter. Amidst much talk of the Eurozone crisis, Belesis pointed to the U.S. economy for opportunity. "Everyone has underestimated the strength of the U.S. economy," he stressed. "Corporations are strong. They have been doing well [even] under the distress of what's been going on in the global markets."
Belesis, who also serves as the Co-Chairman of the New York State Republican Finance Committee, believes that the upcoming Presidential election will have an effect on markets as well. "It's all going to come down to the elections in November. If we have a new administration in the White House, a lot of the economic activity and entrepreneurial demand that's been sitting on the sidelines could plow into the market and take this market much higher," he said.
For timely insights, news, and commentary on economics and financial markets, visit the JTF Blog or join the John Thomas Financial community on Twitter and Facebook.
About John Thomas Financial
John Thomas Financial, a member of FINRA and SIPC, is an independent broker- dealer and investment banking firm headquartered in New York City's Wall Street district. Emphasizing a client-centric approach to managing all aspects of its business, John Thomas Financial and its affiliates offer a full complement of retail brokerage, private wealth management, and corporate advisory services tailored to the unique needs of its clients. The firm publishes the Fiscal Liquidity Index, a unique daily indicator that looks at government spending and its impact on the financial markets, as well as The John Thomas Financial Economic Outlook, a research report analyzing consumer sentiment, market outlook, credit cycles and dozens of other market influences. For more information on the firm, please visit: http://www.johnthomasfinancial.com.