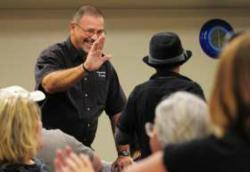 We are focused on training and coaching parents to influence their good children who are simply making bad choices says Ellison.
Jacksonville, Florida (PRWEB) July 31, 2012
Glenn Ellison is a big man. Literally. A former fullback for the Oakland Raiders and a U.S. Marine, Ellison can be intimidating when he needs to. But that is not what drives the success of the Parent Help Center...It's the deep affection he has for the parents and the children that he knows he can help. Ellison's approach to solving behavioral problems in children is a bit different: it centers on the family as a unit.
"We are focused on training and coaching parents to influence their good children who are simply making bad choices" says Ellison. "I've been doing this for over twelve years and bottom line: it works".
The team at Keystone Behavioral Pediatrics has seen this success first hand. After sending a particularly difficult behavioral case to Glenn's "Empowered Parent" program, Glenn was invited to give a presentation to Keystone's behavioral group. Matt Briere-Saltis is a Behavior Analyst and Counselor at Keystone: "The Parent Help Center has recently become a viable treatment option for some of our clients suffering from severe behavioral disorders. They are able to generate motivation to start making better choices almost immediately. We've seen great success thus far!"
A full-fledged partnership has grown out of those initial meetings and now Keystone Behavioral sends behavioral consultants out The Parent Help Center's boy's home weekly to meet with children and their parents. Dr. Katie Falwell, Executive Director at Keystone believes that the approach is helping. "Families from all over the southeast are benefiting from the structured, consistent approach The Parent Help Center takes with parenting. The combination of coaching, support, and behavioral contingencies has been shown to be very effective with this population of strong willed children."
The Parent Help Center was founded 12 years ago by Glenn Ellison. Their mission is to empower parents to raise respectful, productive children and currently offer both live camps and training session in addition to online programs for families in need that cannot get their children to one of the Parent Help Centers Florida locations.
For more information on The Parent Help Center, Camp Consequence or their Empowered Parent Programs, contact glenn(at)theparenthelpcenter.com or call 904-838-9689.