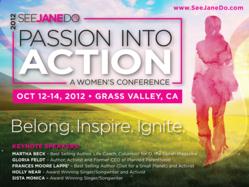 "It's an extraordinary experience, Passion into Action, and I've never seen or felt a gathering quite like it." ~Nina Simons, Co-founder of Bioneers
Grass Valley, CA (PRWEB) July 24, 2012
See Jane Do, the award winning multi-media production company, is excited to announce that Martha Beck, known as "one of the best-known life coaches in America" and best selling author & O Magazine Columnist will join the keynote speaker line-up for the 3rd Annual Passion Into Action™ Women's Conference– October 12-14, 2012 in historic Grass Valley, California. One of the only world-class conferences held in small town America will host Martha along with Frances Moore Lappe'-- best selling author (Diet for a Small Planet), co-founder of Small Planet Institute and activist; Gloria Feldt--former CEO of Planned Parenthood, best selling author & activist; Holly Near-- award winning Singer/Songwriter, teacher & activist; Sista Monica -- award winning Singer/Songwriter; Osprey Orielle Lake, Founder/President of Women's Earth and Climate Caucus, author & activist; Lisa Kivirist -- Ecopreneur, author, co-founder of the Rural Renaissance Network; Jensine Larsen, Founder of World Pulse ; Chi Yvonne Leina --World Pulse correspondent, and Rhiannon Tomtishen & Madison Vorva -- Girl Scouts, Founders of Project ORANG & 2011 Brower Youth Award Winners.
Along with riveting keynotes, Passion into Action™ offers 30 workshops and two optional pre-conference intensives one led by The White House Project, who ignites the leadership of women in business and politics. The second intensive is a hands-on media tools training led by media & entertainment production experts Elisa Kresinger (Pop Culture Pirate) and Jeannine Glista (Biz Kids).
In serving as a platform for the voices of women in a variety of disciplines, the Passion into Action Conference™ (PIA) creates a space for women to meet, network, explore ideas, identify their passion, support a passion, collaborate, and more. Most importantly PIA provides workshops, tools and access to experts who are cutting edge in their field to help shift concepts & ideas, into action. The event showcases real women, with real solutions; mixing local and non-local female leaders, visionaries, artists and celebrates, female empowerment in all its forms. This inspired gathering of hearts and minds creates a space for women to tap into their passions, and through action, make them a reality. "It's an extraordinary experience, Passion into Action, and I've never seen or felt a gathering quite like it," related Nina Simons, the co-founder of Bioneers.
The Passion into Action Conference™ specifically was designed for women in rural communities and small towns. These are areas where little steps can lead to bigger changes at a rapid pace. By empowering the women of small towns we see community members who are vested on a personal level and who are actively shifting the balance not only of women leadership in their communities but are affecting positive change in government, sustainability and their local economies improving their lives and others.
For 2012, See Jane Do projects over 500 will attend the Conference to be inspired, connect and learn.
For more information: http://www.passionintoaciton.tv, http://www.seejanedo.com or contact info@seejanedo.com
October 12th-14th, 2012- Grass Valley Veterans Memorial Auditorium, Holiday Inn Express and The Center for the Arts.
See Jane Do™ is a social change organization that redefines media for women and the power of story, to create positive change. They capture the stories of everyday women doing extraordinary things and provide tools to turn passion into action. See Jane Do currently offers a radio program sponsored by KVMR Radio, Nevada City, CA. In addition to their annual conference and our current Soiree's into Action events (parties with a purpose), they anticipate launching regional PIA conferences across the country. In 2012 See Jane Do also launched regional workshops and an online webinar series to provide tools to help support women to "turn their passions into action."