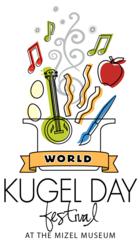 Denver, CO (PRWEB) July 24, 2012
Jews have been seeking comfort for thousands of years. Many stopped seeking when they found kugel. It's a taste of childhood, whether enjoyed as a weekly Sabbath treat or an annual holiday side dish. Some mystics ascribe kugel special powers, while many fine chefs and Jewish mothers consider kugel creation an art. Staff at the Mizel Museum believes that this homey casserole is well worth celebrating, so the first annual World Kugel Day Festival will be held Sunday, August 19, 2012, 2:00 to 5:00 PM.
The event will include a Kugel Cook Off & Tasting featuring well-known community members as chefs and judges. Chefs will include: Daniel Asher, Chef, Linger and Root Down Restaurants; Robin Bar-On, Executive Chef, Udi's and Pickled Lemon; Harriet Klapper, Self Proclaimed Kugel Queen; Ellice "Some Like it Savory" Krivel; Rebbitzin Hindy Mintz, Jewish Center of South Metro Denver; and "Kugel Whisperer" Arthur Rosenblum. Kugel judges include: Mike Gelman, Spire Media; Bruce Gomez, Local Artist & All Around Good Egg; Beth Horwitz, Chailands Ranch Jewish Community Ambassador; and Mark Millenson of Mark Millenson Catering.
Live music by Rocky Mountain Jewgrass will kick off the festival, and there will be a community art project and noodle art and games for kids. Festival goers will walk away with kugel recipes an inexplicable sense of calm brought on by this tasty traditional treat.
Price is $10 for Mizel Museum members; $15 for non-members; $25 for families. The museum is located at 400 S. Kearney Street, Denver. Purchase tickets at http://www.mizelmuseum.org/celebratekugel or call (303) 394-9993.
About the Mizel Museum
The Mizel Museum is a portal to the contemporary Jewish experience. Its exhibits, events and educational programs inspire people of all ages and backgrounds to celebrate diversity. Fine art, film, literature, drama, music, and technology offer interactive experiences that promote community, understanding and multiculturalism. The Museum is located at 400 S. Kearney Street, Denver, where visitors can tour the permanent exhibit, 4,000 Year Road Trip: Gathering Sparks. For more information, visit http://www.mizelmuseum.org or call 303-394-9993.