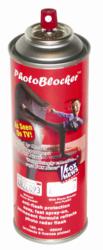 If it will save me one ticket, it has paid for itself.
Hackensack, New Jersey (PRWEB) July 25, 2012
Helmar Distributors, an internet marketer, started carrying Photo Blocker Spray in June, 2012. With a large amount of inquiries about the product pouring in, Helmar Distributors decided to offer a reduced price to motorist till the end of the summer.
Order Photo Blocker Spray Today!
As experienced by car owners, many have gone through green traffic lights just as the light turns yellow. Flash, Flash, Flash. A short time latter, a ticket is received in the mail. New Jersey has found that red-light camera technology was not up to "statutory snuff" as reported in the New Jersey Law Journal's July 16, 2012 issue.
A majority of red light and speed cameras utilize strong flash to photograph the license plate on a car. Photo Blocker's special formula produces a high-powered gloss that reflects the flash back towards the camera. This overexposes the image of the license plate, rendering the picture unreadable. With Photo Blocker, the license plate is invisible to traffic cameras yet completely legible to the naked eye. Proven to beat most cameras.
"Now they have a new weapon in their arsenal, and it comes in a can. A clear spray called Photo Blocker can be applied to license plates to make them hyper-reflective and unreadable when the camera flashes." -- The Washington Times
Photo Blocker Spray helps avoid costly traffic tickets. Spray it on the car's license plate and the plate becomes invisible to red light and speed cameras. One time application covers four license plates.