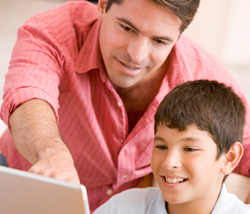 Reading is the best way to stay sharp and avoid summer learning loss
Chicago, IL (PRWEB) July 24, 2012
In a survey of more than 1,000 independent tutors conducted by WyzAnt.com, more than 40% of respondents indicated that reading, regardless of the subject matter, was the best way to stay sharp and avoid what many in the education field refer to as "summer learning loss." The following list is a compilation of the most popular tutor suggestions for summer reading material.
1. The Hunger Games, by Suzanne Collins – Set in a post-apocalyptic society where selected members from each remaining district are matched against one another in a fight to the death, The Hunger Games draws from Greek mythology, weaving a tale of sacrifice, friendship, and love in a dystopic world.
While the Hunger Games is not likely to show up on students' list of required reading material, "the book does touch on some great social and ethical issues to get students thinking critically," said WyzAnt tutor Christina Meals. The Hunger Games is an entertaining story with the power to engage readers which, many tutors believe, is the most important obstacle for students to overcome during summer vacation.
2. Pride and Prejudice, by Jane Austen – Often thought of as Austen's magnum opus, "Pride and Prejudice remains one of the most popular books in English literature, a position it has held for over two hundred years," states WyzAnt tutor, Janine Hegarty. The story is told from the perspective of Elizabeth Bennet, an intelligent, headstrong woman born into a family with four other daughters at the turn of the 19th century. Elizabeth finds herself confronting her own pride and prejudices through her encounters with the wealthy aristocrat, Mr. Darcy.
3. The Fountainhead, by Ayn Rand - Hailed as Rand's first literary success, this philosophical novel follows the turbulent career of an avant garde architect who refuses to sacrifice his designs despite public opinion. Because of its philosophical nature, WyzAnt tutor Chaitali Mehta believes The Fountainhead "is an excellent read and significantly effective in late middle school through high school. It helps to increase vocabulary and improve reading comprehension while sowing the seeds for philosophical thinking in young minds."
4. 1984, by George Orwell - In 1984, a man searches for freedom and love in a totalitarian state infested with constant government surveillance and intervention. Washington Based tutor, Nels Blair believes 1984 is relevant to our times and claims that "students who read 1984 will study certain ideals which promote personal growth, while witnessing examples of ideals which counter personal growth."
5. To Kill A Mockingbird, by Harper Lee –Set in the 1930's, To Kill a Mockingbird follows two young siblings in the deep south who begin to understand the meaning of justice, equality, and friendship by observing a prejudiced trial and their interactions with the town recluse. WyzAnt Tutor Nicole Vermilion hails To Kill A Mockingbird as "a coming of age story that will inspire readers to look at the innocence of youth, prejudice, courage, and moral dilemmas in a different light."
In addition to these summer reading suggestions, over 50,000 tutors are available on WyzAnt.com to help students review curricula from the previous year, and prepare students for the upcoming school year. WyzAnt has maintained an "A" rating with the Better Business Bureau and allows students to begin lessons with the security of a 100% satisfaction guarantee. To learn more and to hear what WyzAnt customers have to say, find WyzAnt on Facebook or read the WyzAnt Twitter page.