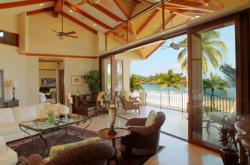 GUANACASTE, COSTA RICA (PRWEB) July 24, 2012
The Palms at Playa Flamingo, a private residence club, unveils two new beachfront Villas this month. Just footsteps away from the beautiful white sands of Playa Flamingo and the magnificent Pacific Ocean, the brand new Villas are the largest that the exclusive club offers at 3,000 square feet each. The ground floor Villa, which includes a large deck, perfect for entertaining with a superb view, has three bedrooms, three full bathrooms and a powder room. The top Villa features open cedar-beamed ceilings with three bedrooms, three full bathrooms, a powder room and a spacious loft. The Villas are for sale for $2.25 and $2.5 million, respectively.
The Palms is the perfect place to bring your family and friends due to its beautiful setting on Costa Rica's Gold Coast. Visitors can choose to relax by the ocean or sign up for an adventurous activity. The new beachfront Villas are decorated with luxurious, comfortable furnishings from floor-to-ceiling glass doors that provide magnificent panoramic ocean and sunset views to deep colored hardwood floors. The spacious kitchen comes fully equipped with granite countertops and top-of-the-line Sub-Zero and Viking appliances.
The Palms' proximity to the Liberia International Airport (LIR), located in the capital of Guanacaste, makes traveling to the exclusive destination easy and convenient. The Liberia International Airport just completed the long-awaited new terminal on January 12, 2012. The new terminal has capacity to accommodate 1,500 travelers efficiently during the busiest hours. At the moment, nearly thirty different airlines fly to Liberia Airport including, American Airlines, AirCanada, JetBlue, United/Continental, Delta, Frontier, and US Airways. Direct flights from the U.S., Canada and Europe have enabled Costa Rica to become a major vacation destination.
About The Palms Private Residence Club:
The Palms Private Residence Club is the only luxury residence club in Guanacaste, Costa Rica. Nestled on the Pacific Coast's pristine Playa Flamingo, each of the 32 Villas at The Palms offer stunning views of the Pacific Ocean. Offering all the advantages of vacation home ownership with the services and amenities of a first-class resort, The Palms offers its owners a luxury sanctuary and a more authentic experience. Potential owners can purchase 1/8th at $149,000 or 1/10th starting at $129,000. For more information, please call 800-867-5762 or visit http://www.palmscostarica.com. Check out The Palms on Facebook @ Palms Villas or Twitter @palmscostarica.