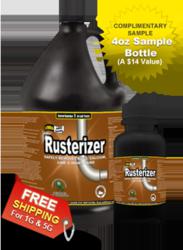 So with it being non-toxic, Rusterizer basically presents more benefits to property owners.
Seattle, WA (PRWEB) July 24, 2012
A rust removal process can increase the aesthetic value of rust stained or damaged items and surfaces. That is, if the solution used is truly effective. And so to provide anyone who faces a rust problem a product that genuinely delivers positive effects, Rusterizer created a rust remover made with natural ingredients.
See How Well The Non-Toxic Rust Removal Product Works
In any cleaning task, the solution used to get things done can either make or break the process. That is why every property owner and rust contractor must always make a well-informed decision as to which rust removal product to purchase. Otherwise, the item or surface could be more damaged. Not to mention, the money spent on the solution could be put to waste.
But which among the many rust removers available is the truly effective product? Well, to find that out, every rust sufferer must first know what is a truly effective rust removal process. And according to a representative of Rusterizer, it is a process that clears rust with minimal work and without putting anybody's health at risk.
Sadly, however, most of the rust removal products today are made with strong chemical ingredients. And needless to say, those chemicals are a big risk to health. Exposure to them often causes dizziness, coughing and breathing difficulties.
But Rusterizer's organic-based rust removal spray is not like any solution in the market, said the representative. Carrying the same Rusterizer name, the product, as earlier mentioned, is produced with the use of natural ingredients. And because its components are organic, the use of the solution leaves no residues that harm the health or pollute the environment. That saves a family from spending more for medical expenses.
Discover All The Benefits of Rusterizer
So with it being non-toxic, Rusterizer basically presents more benefits to property owners. And for any consumer, a product with more benefits is always a much better pick. That, in return, brings a rust contractor more clients. And with more clients and less labor cost as the product can also do the work of and replace a number of employees, it brings in huge profit.
But it is understandable for anybody to be uncertain of any new product. So to prove that Rusterizer is a worthy solution, that it is indeed safe, the company released a demonstration video of the product in action. Apart from that, so the consumers can experience that it is truly safe. The company also decided to give a complimentary sample of the product.