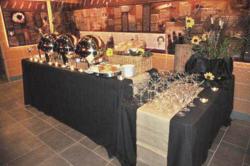 Once again, you drove this one out of the park! Awesome food and great service!
Toronto Canada (PRWEB) July 24, 2012
Impeccable Taste Catering, offering food catering in Toronto Canada, have launched a unique colour-coded menu designed to make the pairing of flavours easy for corporate clients. Each entrée is matched with at least two sides and one sweet treat to complement and enhance each mouth-watering flavour profile. Ranging from exotic Cajun Creole to wholesome Rustic Italian, the menu boasts truly international cuisine in seven different flavour profiles. Popular dishes include swordfish steak, Thai rice noodle salad with mango, cilantro, lime, tamarind, and peanut sauce, and caramelized pineapple skewers.
Whether it's a boardroom lunch, a 400-person reception catered event, or a backyard dinner party, event planning can be a challenge. Thankfully for Toronto-based companies and party-throwers alike, Impeccable Taste Catering has entered the market and covers event coordination from start to finish.
"We have no limits when it comes to originality and what we can pull off. We are involved in our clients' events every step of the way and are equipped to cover all of the details— from entertainment to wait staff and everything in between." says Rodney Kaufman, President and Executive Chef at Impeccable Taste Catering.
Simplifying the entire process of planning private and corporate food catered events in Toronto and the GTA, Impeccable Taste Catering is quickly becoming a game-changer in the industry. Kaufman explains, "Our menu reflects both unique and traditional flavors and we strive to create a truly memorable experience for each guest."
Offering completely customizable menus to satisfy even the most discerning palettes, Impeccable Taste Catering maintains a high standard of service and quality, while adding creativity and out-of-the-box ideas to any event. Serving up specialties like breakfast pizza and cake pops, drinks in mason jars and anything you can think of on a skewer, Kaufman has trustworthy taste buds and an innovative approach to the industry.
Impeccable Taste Catering consistently delivers quality food that looks as good as it tastes. The service, quality and presentation, like the name suggests, is impeccable. Each event is custom-tailored to suit the unique needs of each customer. Impeccable Taste Catering works with private individuals, companies and corporations in Toronto and the wider Greater Toronto Area markets. Services include event planning and catering for casual lunches, seminars, conferences, product launches, release parties, corporate affairs and weddings, among other social events. Born out of the philosophy that exceptional food must not only be meticulously prepared, but also artfully presented, our service offerings include colourful, eclectic and progressive menu options. Visit itcatering.ca for more details.
SEO in Toronto by iFM.ca