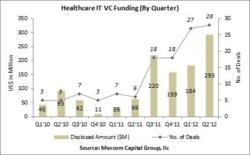 AUSTIN, Texas (PRWEB) July 24, 2012
Mercom Capital Group, llc, a global communications and consulting firm, today released its report on funding and merger and acquisition (M&A) activity for the Healthcare IT (HIT) sector for the second quarter of 2012.
Venture Capital (VC) funding in the HIT sector continued to scale new heights reaching $293 million in Q2 2012 in 28 deals. Both the total amount and the number of deals were at their highest levels since 2010.
"The strong uptrend that started in Q2 2011 has continued for four quarters in a row," said Raj Prabhu, Managing Partner at Mercom Capital Group. "Also significant is the continued strong M&A activity in the sector, providing investors and companies with viable exit strategies."
Sixty-one different investors participated in these funding rounds with Founders Fund and Venrock participating in multiple deals.
In Q2 2012, Health Information Management (HIM) companies received the most funding as a technology group with $247 million in 19 deals followed by Telemedicine companies with $19 million in three deals and Personal Health Record (PHR) companies with $16 million in four deals.
The top VC funding deal this quarter was the $100 million raised by Castlight Health, a provider of healthcare web and mobile-based transparency solutions that enable comparisons of doctors, hospitals, medical procedures based on price and quality, followed by $34 million raised by Practice Fusion, a provider of free web-based EMR, and $30 million each raised by Valence Health, a provider of clinical integration, data collection and analysis software and Liaison Technologies, a provider of cloud-based integration and data management solutions. Other top deals were $14 million each raised by Carena, a provider of healthcare services 24 hours a day via phone, secure video, and the traditional house calls and Aware Point Corporation, a provider of real-time location system (RTLS) solutions for healthcare. The average VC deal size in Q2 was $10.5 million.
There were 39 M&A transactions in Q2 2012 amounting to $2.9 billion, of which only seven transactions disclosed details. Top M&A transactions included Thomson Reuters' HIT business acquired by Veritas Capital for $1.25 billion, Decision Resource Group, a health information company acquired by Piramal Healthcare Limited for $635 million and Extend Health, a private medicare insurance exchange acquired by Towers Watson for $435 million.
In Q2 2012, HIM companies accounted for 17 M&A transactions followed by 11 transactions for revenue cycle management companies.
"Most mergers and acquisitions were strategic in nature but private equity firms were very active this quarter and were involved in five M&A transactions," said Prabhu.
For a complete list of Q2 2012 transactions in the Healthcare IT sector, visit: http://www.mercomcapital.com/healthcareITreports.php.
About Mercom Capital Group
Mercom Capital Group, llc, is a global communications and consulting firm focused on healthcare information technology (HIT), cleantech and financial communications. Mercom delivers highly respected industry market intelligence reports covering Healthcare IT, Solar Energy, Wind Energy and Smart Grid. Our reports provide timely industry happenings and ahead-of-the-curve analysis specifically for C-level decision making. Mercom's consulting division advises companies on new market entry, custom market intelligence and overall strategic decision-making. Mercom's communications division helps companies and financial institutions build powerful relationships with media, analysts, government decision-makers, local communities and strategic partners. For more information about Mercom Capital Group, visit: http://www.mercomcapital.com. To get a copy of Mercom's popular market intelligence reports, visit: http://mercomcapital.com/market_intelligence.php.
# # #