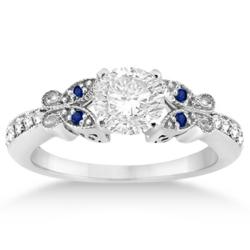 Allurez only sells natural, untreated and genuine gemstones.
New York, NY (PRWEB) July 23, 2012
Allurez jeweler's best engagement rings are being released with colored stones as part of their new summer lineup. Thanks to Allurez jeweler's in-house engagement ring design team, consumers can get hot selling bridal rings off the site with precious gemstones. The new line-up includes:

Halo Design Sapphire Engagement Rings
Alternating Stone Emerald Engagement Rings
Side Stone Accented Diamond and Ruby Engagement Rings
Butterfly Design Diamond and Pink Sapphire Engagement Rings
Three Stone Engagement Ring Settings with Emerald, Ruby, or Sapphire Gemstones
The gemstone engagement rings are based off previous styles of diamond engagement rings that were sold on the site. Most of the new styles have a combination of gemstones and diamonds. The engagement rings have a mounting for a selectable center stone, allowing you to design your own engagement ring.
According to the company spokesperson, "Allurez wanted its consumers to have precious gemstone engagement rings as a way to break free from the tradition of an all-white diamond engagement ring. Allurez figured it would make sense to take their best engagement rings, in terms of sales, and modify them with the colored stones." Since the release of the gemstone engagement rings, the site has seen a surge in a demand for these engagement rings.
The same spokesperson notes that Allurez only sells natural, untreated and genuine gemstones, that the site does not sell artificial or lab created stones. The company spokesperson also notes that this has been company policy since the beginning.
"Allurez receives calls every day from people who want to know more about these colored stone engagement rings. In fact, most people are surprised to know that the center stone itself can be a precious gemstone, so you really can create your own engagement ring any way you want. "
Allurez is based in New York where they have multiple offices. They offer free 2nd day shipping, easy returns and secure online shopping on their products. The site carries large selections of GIA certified diamonds, precious gemstones, exotic gemstones, and colored diamonds at a variety of price points. For more information, visit http://www.Allurez.com.