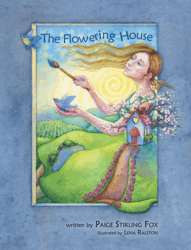 Losing both of my parents, who died having no regrets, made me question what I would regret not having done at the end of my life.
Toronto (PRWEB) July 25, 2012
Fulfilling dreams can be as simple as opening the door.
In her new book, "The Flowering House" (published by Balboa Press), Paige Stirling Fox uses a metaphorical story of a house to inspire readers to look behind their own closed doors for unrecognized dreams.
Stirling Fox wrote the first part of the book 10 years ago after going through her own life transition, during which she left her unhappy marriage and high-powered job to follow her heart and start a business as a life coach and women's workshop facilitator.
When her mother passed away in the fall of 2010, Stirling Fox was spurned into action, realizing that the book tucked away in her drawer was calling her to take a second look.
"Losing both of my parents, who died having no regrets, made me question what I would regret not having done at the end of my life," Stirling Fox says. "The only unfulfilled dream was publishing a book. So, I took the book out of the drawer and, upon reflection, realized it is the story of almost every woman."
"The Flowering House" presents a brief fictional vignette followed by journaling sections that reflect the story's lessons. The book features Camilla, a woman whose house reflects her life-- neat and tidy on the outside, but cluttered and shuttered behind the scenes. Stirling Fox couples Camilla's story with engaging visuals that even further emphasize the internal conflict that arises when the life you want to live doesn't match the live you have.
"Camilla's turning point comes when she hears a ringing bell behind a closed door and has the courage to enter," Stirling Fox says. "I want readers to consider what is ringing in the background of their lives and discover what's possible when they take time to listen to the heart's whispers."
For more information, visit http://www.thefloweringhouse.com
Connect with Paige Stirling Fox at Facebook.com/PaigeStirlingFox and @floweringhouse
"The Flowering House"
By Paige Stirling Fox
ISBN: 978-1-4525-5011-4
Perfectbound, soft cover: $27.95
About the author
Paige Stirling Fox has spent more than 10 years coaching women through transition and facilitating groups of women longing to create more balance and meaning in their lives. She is a practicing Reiki master as well as a certified labyrinth facilitator, which she uses to help many different clients following life-changing events, such as cancer. When she isn't working or writing, Paige enjoys spending time with her family and reading, volunteering and hiking.
# # #
**FOR IMMEDIATE RELEASE**
EDITORS: For review copies or interview requests, contact:
Lauren Cascio
Phone: 317-602-7137
Email: lcascio(at)bohlsengroup(dot)com
(When requesting a review copy, please provide a street address.)