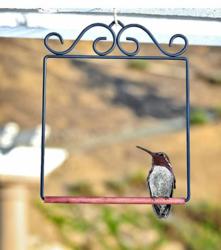 Watching the video on Duncraft's website convinced me my hummingbirds will really enjoy this. I bought one immediately! Karen D. Duncraft Customer.
Concord, NH (PRWEB) July 24, 2012
Duncraft is always looking for exciting products for their customers and Pop's Hummingbird Swing is definitely different. Hummingbirds readily use the swing and customers can place it anywhere they want to get the best view of these tiny birds.
Some hummingbirds, such as the Ruby-throated hummingbird, are very territorial and spend about eighty percent of their time perched near a nectar feeder they've laid claim to. Most people with hummingbird feeders never see the birds until they actually come to a feeder. But chances are very good that a hummingbird is perched on a bare branch in a nearby tree, keeping watch. When another hummingbird approaches the feeder, the guardian will zoom down from its perch to chase it away. A lot of hummingbird activity ensues.
The Pop's Hummingbird Swing should be placed near a hummingbird feeder at the same height or slightly above the height of the nectar feeder. Duncraft suggests that multiple hummingbird feeders should be hung at least twenty feet from each other or located out of sight of one another so they can get the most bird activity with a minimum of fights. Definitely provide a swing at each feeder! Some hummingbirds are so territorial that they'll even guard their own swing and won't let others near it. If other birds besides hummingbirds are using the swing, Duncraft recommends that the hummingbird feeder and swing be moved to an area away from other types of bird feeders. A hummingbird won't fight other birds besides hummingbirds. They just won't compete for the swing.
The Pop's Hummingbird Swing is made of metal with a wooden dowel perch and measures 5 ½ x ¼ x 7 inches tall. It retails for $15.95 at duncraft.com
Founded in 1952 and located in Concord, New Hampshire, Duncraft's objective is to bring the joy of backyard birding to wild bird lovers all across the country. Mike Dunn, owner and CEO is constantly inventing and searching for innovative ideas in bird feeding—giving bird lovers years of bird feeding enjoyment, success and satisfaction.
Duncraft
102 Fisherville Road
Concord, NH 03303
603-224-0200