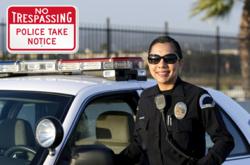 "Our customizable sign templates are a huge draw," said Daniel Male, Manager of MySecuritySign. "The custom wizards allow users to enter text, choose art options or upload personal art and have a professional tweak it for free, all within minutes."
Brooklyn, New York (PRWEB) July 24, 2012
MySecuritySign.com, a web supplier of security signage, has issued a new line of Police Take Notice Signs. The new signs provide safety support and let violators know that intruders are around.
Police are one of the most important components of a safety management program. According to the Bureau of Justice Statistics' website, local police departments make up more than two-thirds of the 18,000 state and local law enforcement. In 2008, 12,501 local police departments with the equivalent of at least one full-time officer were operating in the U.S. It is essential that police officials remain major guiding forces on any facility, and therefore signs need to alert people of police presence.
The new line of Police Take Notice Signs consists of highly visible signs to ensure that a significant safety system is in place. Choices include signs with messages such as "No Trespassing: Police Take Notice" or "No Loitering: Police Take Notice." The signs come with "Notice" or "Warning Signs." Additionally, there are more police signs that list "No Loitering" warnings to indicate that police are watching out for stragglers.
MySecuritySign specializes in providing custom templates for businesses and facility regulators to personalize signs to a specific organization. "Our customizable sign templates are a huge draw," said Daniel Male, Manager of MySecuritySign. "The custom wizards allow users to enter text, choose art options or upload personal art and have a professional tweak it for free, all within minutes." Following that, a wealth of different premium sign materials are available to guarantee resilient signage. Heavy-duty aluminum, tough plastic, or laminated vinyl are among the many options to choose from.
For more information, visit http://www.mysecuritysign.com/MSS/Police-Take-Notice-Signs.aspx.
About MySecuritySign.com
MySecuritySign.com provides over 5,000 different security signs to protect any home or property. Whether for video surveillance, no trespassing, or customizable options, the signs will last for decades through weather and abrasion. Find direct-from-factory items 50% cheaper than any competitor.
About SmartSign
SmartSign is one of America's fastest growing e-commerce companies and parent of MySecuritySign.com, MyParkingSign.com, as well as more than 50 other sites. The company manufactures and distributes a wide range of signs, tags, mats, and labels. In the past, many consumers have found it hard to find, hard to design and hard to order signs with the right message. By positioning "signs as solutions," SmartSign has taken an entirely different approach. Through highly targeted, content-rich, and authoritative retail sites, the company provides specific solutions to specific problems, such as protecting vehicles. SmartSign is widely recognized for its quality construction; its signs come with a 3M® warranty and outlast fast-fading, ink-jet signs. Other SmartSign advantages include fast and free shipping, the Web's largest range of designs, and a best-price guarantee.