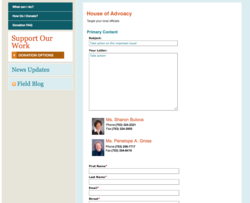 The new product gives our clients additional resources for conducting advocacy campaigns.
Washington, D.C. (PRWEB) July 24, 2012
Salsa Labs, Inc. (Salsa), creator of the online, integrated platform for nonprofits and political campaigns to build a base of support, announced today the introduction of a new product, Salsa Local Advocacy.
Currently Salsa uses a database of contact information for state and national officials to allow organizations to reach out to government leaders through letter writing and petition campaigns. By upgrading to Salsa Local Advocacy, organizations can allow their supporters to also contact local officials in cities and towns of more than 10,000 people.
"The new product gives our clients additional resources for conducting advocacy campaigns," said Charles Parsons, product manager, Salsa. "Now they can help supporters write letters and effect change at the local level too, not just with state and national officials."
Currently, organizations can set up templates for supporters to complete a targeted email and send it to one of the thousands of state and national officials in the database. The supporter simply enters their zip code, and Salsa works behind the scenes to match them by geographic region to the correct official. Now, an additional 56,000 local leaders have been added. Salsa Local Advocacy is available for installation now for new and existing Salsa users.
Salsa Advocacy has already been paving the way for organizations to help create public pressure and manage their online grassroots efforts. In January 2012, the Electronic Frontier Foundation and the Entertainment Consumers Association, leading the SOPA/PIPA protest, used Salsa's platform to gather approximately 400,000 names and distribute emails to appropriate legislators on their behalf, with only a few days lead time.
About Salsa Labs
Salsa Labs (Salsa) helps non-profits and political campaigns to build, organize and engage a base of support, more efficiently and effectively. In one easy-to-use, integrated and flexible web-based system, groups of all sizes can manage their supporters and chapters, communicate through email and social media, fundraise, advocate, host events, and measure results. With all that as well as our top-notch training, support and strong online community, Salsa provides you the best value for your investment - letting you focus more resources on your mission. Salsa currently supports more than 2,000 organizations' relationships with more than 75 million donors, members, activists and fans all around the world. We can do more things together than we can apart. Visit Salsa online at http://www.SalsaLabs.com.