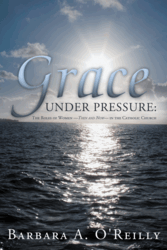 People need to realize that, in the past, women had important roles in the Church.
Freehold, NJ (PRWEB) July 25, 2012
Barbara O'Reilly takes on the gender roles of women in her new book, "Grace Under Pressure: The Role of Women-Then and Now-in the Catholic Church" (published by WestBow Press).
In the book, O'Reilly takes a candid look at how women's functions have changed and evolved over time, from the story of Eve to the present day. O'Reilly wrote the book, which is the culmination of intense Scriptural and historical research, to raise awareness of the impact women have had on the Church, both in history and the modern day.
"People need to realize that, in the past, women had important roles in the Church," O'Reilly says. "This is illustrated in how Jesus treated women in his ministry. Instead of disregarding or treating them like property, as society did, he spoke to and engaged women, affirming them as equal in God's eyes."
In the book, O'Reilly focuses on historical examples to answer questions about women's roles in the customarily patriarchal Catholic Church. No topic is safe from O'Reilly's perusal, as she challenges and brings awareness to issues such as clerical celibacy and the role of the laity as well as women serving in Vatican-approved leadership positions in parishes without priests.
In the end, O'Reilly hopes that raising awareness will educate women about their importance in the Church--and to God.
"The purpose of this book is to influence the perception of women as seen in Scripture, in the Church and in society today," O'Reilly says. "Women want to be accepted for who they are--intelligent, competent people. Their contributions aren't just vital to the Church, but the entire world."
For more information, visit Amazon, Barnes & Noble, WestBow Press
Grace Under Pressure: The Roles of Women--Then and Now-- in the Catholic Church
By Barbara A. O'Reilly
ISBN: 978-1-4497-2938-1
Softcover, retail price: $24.99 Ι Hardcover, retail price: $39.99 Ι E-book price: $3.95
About the author
Barbara O'Reilly has a master's in journalism and has written and freelanced for several Christian publications. She currently serves as parish lector and volunteers for the local chapter of the National Multiple Sclerosis Society.
# # #
EDITORS: For review copies or interview requests, contact:
Lauren Cascio
Phone: 317-602-7137
Email: lcascio(at)bohlsengroup(dot)com
(When requesting a review copy, please provide a street address.)