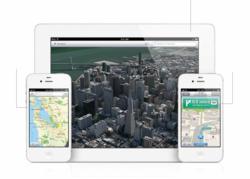 We are confident of what we can achieve and our track record of innovation speaks for itself
(PRWEB) July 25, 2012
StealthGenie, one of the leading iPhone tracking applications on the market, has always been foremost in the race for supremacy in the cell phone tracking market. They were the first mobile tracking app to support Android OS 4.0 and also have a number of 'firsts' under their belt when it comes to tracking features. With rumors about iPhone 5 manufacturing beginning in Shanghai, the people at StealthGenie are ready with their war faces on to tackle and beat the problem of new iOS and iPhone compatibility.
Apple is expected to announce their new iPhone 5 and iOS 6 this fall and the people at StealthGenie are pretty confident that they will be able to get their app to work on the new iOS and new iPhone within weeks of release. "I have the best team of developers in the world. We have always taken OS changes by companies like Google and Apple as a healthy challenge and have put our heads together to crack their codes in the past. We expect to do that again this fall when Apple announces their new products," said Martin Krajnak, the head of app development for the iPhone tracker.
When asked about the challenges they expect to meet with this, Martin replied, "Challenges, yes. They are always challenges. We don't know how much of the code they will alter with the new OS. We also need to be prepared for hardware changes in the new phone that might affect the way our app works but our researchers are spending a lot of time on getting as much details as possible about the new OS and phone so we are fully prepared. iOS 6 is coming with a lot of new features and tweaks and we are ready to take them on."
When we spoke to the head of marketing at StealthGenie, Amanda Wade, about why they were making a 'promise' so early on, she said, "We are confident of what we can achieve and our track record of innovation speaks for itself. We want our customers to know that we are always striving to keep with the current technologies."
With all that said, the confidence levels at the cell phone tracker are pretty high and the only thing to see now is whether StealthGenie can once again defy odds to fulfill another promise to their customers. We'll all know by the end of the year.
StealthGenie is a Blackberry, Android and iPhone tracker application that can be installed into a phone to keep a tab on its usage activities. The application is very popular amongst parents and employers who need to make sure that the phones they bought for their kids or employees are not being used for harmful purposes. Go to http://www.stealthgenie.com for more details.