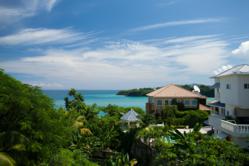 Ocho Rios Jamaica averages 228 days of sunshine per year, with over 5,000 hours of rain-free sunshine, making it the perfect
Narragansett, RI (PRWEB) July 26, 2012
Jamaica Ocean View Villa is offering a special discount to guests: travelers booking a minimum stay of 1 week anytime from September 1st through December 15th will receive 50% off the cost of accommodations.
Jamaica Ocean View Villa is a beautiful property that is nestled inside lush native tropics behind a private beach in Ocho Rios, Jamaica. Located on the northeast coast, the villa is situated atop a prime hillside where the Rio Nuevo Bay and calm Caribbean Sea intersect.
Ocho Rios Jamaica averages 228 days of sunshine per year, with over 5,000 hours of rain-free sunshine, making it the perfect climate for sun-worshipping vacationers and the destination of choice for outdoor enthusiasts everywhere.
Established in 2006, Jamaica Ocean View quickly became a favored villa rental in Ocho Rios by families and cost-conscious travelers worldwide by offering its guests a beautiful, private retreat with top-notch accommodations at affordable prices. Now, the villa's owner has cut rates even further for the Sept. 1 – Dec.15 season.
Jamaica Ocean View Villa welcomes families and guests of all ages with superb accommodations administered by a warm and highly knowledgeable local staff. Private villa rentals have long been a mainstay of savvy vacationers looking to get the biggest bang for their buck, especially in a down economy with inflationary pressures.
"We've seen steep increases in rates on the island recently, especially with some of the newer resorts. Our villa caters to all travelers looking for a Caribbean experience, and we believe practical issues such as the economy and budgets should not act as barriers to anyone wishing to come to Jamaica," says owner/operator Cavel Capalbo.
The owner further notes that keeping rates reasonable on the 5-bedroom villa that sleeps up to 16 allows guests a wide range of flexibility, like "golf dads" who have booked Jamaica Ocean View Villa for their wife and children while they golf at area resorts and clubs or day-golf at courses such as Cinnamon Hill and Half Moon.
There are many activities available in the surrounding areas to make a vacation in Ocho Rios truly spectacular. These include dolphin riding at Dolphin's Cove, frolicking in the waterfalls at Dunn's River, birdwatching, jungle and garden tours, visiting the beach, scuba diving, golfing and more.
Female travelers and those wishing to have a unique island adventure may want to hire a professional travel guide, and with this seasonal discounted offering, now is the time to make those travel plans a reality.
About Jamaica Ocean View Villa
Jamaica Ocean View Villa was built by its owner and operator in 2006 with families and group travelers in mind. Located in a gated community within the historic town of Ocho Rios, the villa is only a 10-minute drive to area attractions, while affording privacy by remaining off the beaten path. Guests will experience the very best amenities at Jamaica Ocean View Villa, including fabulous views of the Caribbean ocean, custom beds in tropically decorated rooms, a splendid private pool, bar, recreation room, a staff of four, and high-speed broadband with telephone to keep you connected. For more information or to make travel plan inquiries, call 1-401-626-6942 or contact us today.