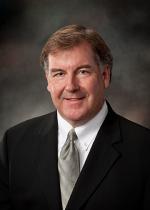 Giving back to the industry and being a voice of IIAT members, clients and their cause in Austin and Washington DC is an honor…
Dallas, TX (PRWEB) July 30, 2012
The Independent Insurance Agents of Texas (IIAT) elected Pat Arthur, partner at McQueary Henry Bowles Troy in Dallas (MHBT Inc.), to serve as Vice President for 2012-13 during IIAT's 115th Annual Conference and Trade Show in San Antonio. With 1,900 member agencies in 225 counties, IIAT is the state's largest association of independent insurance agents and professionals. Arthur's term begins September 1, 2012.
Arthur has been in the insurance and risk management profession since 1982 and has significant expertise and client experience in the hospitality, real estate, construction, nonprofit and distribution industries. His experience includes executive positions with two major insurance companies – one domestic, one in the UK – and he served as COO of a major broker firm prior to joining MHBT. Arthur was also with Merrill Lynch, a Wall Street firm.
With significant industry expertise and client experience in the various market verticals, Arthur has also been a source for industry articles, interviewed and quoted in numerous publications including Dallas Business Journal, Business Finance magazine and USA Today newspaper. Earning a Bachelor of Science in Business Administration from the University of Arkansas in 1982 with a major in finance and minor in insurance, and completing the Executive Leadership Program at the Wharton School – University of Pennsylvania in 2003, Arthur is well versed for this leadership position with IIAT. Arthur was a member of the Sigma Chi Fraternity, where his leadership characteristics were established.
Serving on the Board of Directors of the Independent Insurance Agents of Dallas from 2003 to 2009, and as President from 2007-08, Arthur brings knowledge, experience and competence to IIAT. In addition to serving in the role of Vice President, he will serve as part of the Executive Committee for the years 2012-15. Arthur has held other positions with organizations where he contributed significantly to the initiatives and vision of each organization, including Globex International as Director 2002-08, Zurich Insurance Advisory Council 200-06, Liberty Mutual Insurance Advisory Council 2005-11, and Chubb Insurance Cornerstone Advisory Council 2007-10.
"Giving back to the industry and being a voice of IIAT members, clients and their cause in Austin and Washington, D.C., is an honor, and that the membership of IIAT would entrust me with those responsibilities will be reflected in my commitment to the position," Arthur said when asked about the mission of and serving the IIAT.
Community, social and philanthropic involvement is important to Arthur and his family. He currently serves on the Board of Directors for the Ronald McDonald House of Dallas and is involved in other philanthropic endeavors. Past involvement includes University of Arkansas Vice Chancellor's Advisory Board 2007-10, Texas Neurofibromatosis Foundation Board of Directors 1999-2003 and Advisory Board 2004-05, MHBT Charity Golf Classic Chairman 2000-04 and 2007-09, YMCA Partners Campaign 2005, and Ronald McDonald House of Dallas, Board of Directors 2008-14 and Finance Committee 2006-12.
About IIAT
The Independent Insurance Agents of Texas (IIAT) is the nation's largest state association of Trusted Choice® agencies. IIAT represents approximately 1,900 agencies and more than 16,000 agents and insurance professionals. Trusted Choice® independent agents represent multiple insurance companies. Since they are not employees of any single insurance company, they are advocates for insurance consumers, helping them comparison shop for cost-effective and customized coverage. IIAT is also affiliated with the Independent Insurance Agents & Brokers of America and works with legislative, regulatory and judicial bodies in Texas on behalf of independent insurance agents across the state. For more information about IIAT, visit http://iiat.org.
About MHBT
Founded in 1996 with the merger of two predecessor firms, MHBT is a company built on honor, dependability and respect. With a commitment to bring measurable value to its clients, understanding and exceeding every expectation, MHBT has become one of the largest independent insurance firms in Texas. Ranked among the top 50 Independent Brokers in the U.S., MHBT serves clients from offices in Dallas, Austin and Fort Worth. For more about MHBT, visit http://mhbt.com. For more information about Pat Arthur, visit http://mhbt.com/producers/arthur-pat.
Media Contact:
Robert C. Smith
972.770.1624
robbie_smith(at)mhbt(dot)com