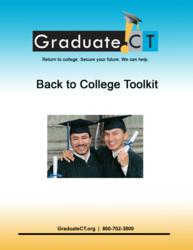 Graduate!CT developed these materials to help Connecticut's adults with some college credit complete their degrees.
Hartford, Conn. (PRWEB) July 25, 2012
Graduate!CT, a program of the MetroHartford Alliance in collaboration with the Hartford Consortium for Higher Education, has developed five free whitepapers to help adults return to college. Each whitepaper, which can be downloaded directly from their website, provides tips and tools to help Connecticut adults with some college credit work towards a completed degree.
The Back to College Toolkit is a comprehensive guide that offers advice on how adults should plan, prepare and finance their college degree. In addition, this tool provides tips on how to juggle work, school and family obligations, and overcome hurdles that make going back to college difficult for adults, as indicated in a 2012 survey, Challenges Facing Connecticut Adults in Degree Completion.
The Free Guide to Financial Aid provides a variety of information about applying for federal and CT financial aid options. This guide educates readers about the ins and outs of loans, grants and scholarships, and also offers information on leveraging possible tuition assistance from employers. Use this white paper to learn about other available financial aid opportunities like the G.I. Bill.
Transferring schools and/or programs is a large part of the adult college experience and Graduate!CT created the Transfer Playbook to help adults work through this situation. This guide details important steps in the transfer process, emphasizes the importance of transfer credits and provides a comprehensive list of questions to ask college counselors during the transfer and application processes.
The Top 5 Things to Know about Summer Classes white paper is dedicated to educating adults about the power of summer classes while highlighting many of the unique advantages. Extending college classes throughout the summer is a great way to stay ahead of the game and makes balancing the workload during the traditional school year more manageable with smaller and, oftentimes, more intimate learning environments.
Top 5 Reasons to Return to College illustrates the importance of returning to college and completing one's degree. This is a valuable resource for those in the early stages of planning a return to college.
"Graduate!CT developed these materials to help Connecticut's adults with some college credit complete their degrees," Martin Estey, Director of Higher Ed Partnerships, Graduate!CT said. "We are confident that these white papers will help adults become better informed about the process of returning to college and get started on the path towards degree completion."
To download one or more of these free whitepapers for Connecticut adults with some college credit, visit graduatect.org.
About Graduate!CT
The mission of the Graduate!CT program is to increase the number of adults with college degrees in Connecticut. Our knowledgeable advisors offer advice and counseling to facilitate the return to college process: from researching programs to graduation and all steps in between, the Graduate!CT staff will be there to help with your degree completion. Graduate!CT is a nonprofit and there is no fee for service. To learn more, visit graduatect.org.