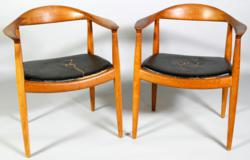 Beverly, Massachusetts (PRWEB) July 24, 2012
In this Saturday's 20th Century Decorative Arts Sale, Kaminski Auctions will present several pieces by renowned Danish furniture designer, Hans Wegner. Bidding is scheduled to commence at 10:00AM at the Kaminski Auctions gallery located at 117 Elliot Street, Route 62, Beverly, Massachusetts.
The sale will include four lots of furniture, originally purchased in Denmark in the early 1960s. Among the Wegner collection, the highlight will be a set of two armchairs, nicknamed "The Chair." This style earned fame after being used in the September 26, 1960 Kennedy-Nixon debate. The first Presidential debate to be televised, this moment was also a pivotal moment in American political history. Kaminski Auctions is excited to offer these important chairs as the feature lot of their modern sale this month. Made of teak with finger-joined backs, with original black leather seats and each branded "Johannes Hansen Copenhagen Denmark" with "JH logo, the pair is estimated $1,000-$1,200.
Other lots of Hans Wegner furniture in the sale are a dining table, side chairs, and a unique hutch. The table, made of teak and including two additional leaves, is estimated $800-$1,000. A set of six teak side chairs with recovered black leather seats is estimated $800-$1,000. The fourth lot is a Hans Wegner "Hibord," estimated $1,200-$1,500. This unusual form is a two-piece hutch where the top portion slides out from the lower. The upper case has five inner shelves and the lower unit has six drawers.
Kaminski Auctions, located on the North Shore of Boston, has been serving the New England antiques market for over 25 years as a full service auction house and appraisal service for fine art, antiques and estates. With two locations in Beverly, Massachusetts, including a new state of the art auction gallery located at 117 Elliott Street, and a historic 1850's barn and office facility at 564 Cabot Street, Kaminski Auctions hosts 16 auctions a year. In today's highly competitive market of fine art and antiques, Kaminski Auctions provides its customers with bicoastal services and marketing with west coast offices in Beverly Hills and San Diego, California.Kaminski Auctions offers specialty departments in Asian Art and Antiques, Silver, Glass and Lamps, Couture and Vintage Clothing, Photography and Modern Design . We have highly trained and knowledgeable appraisers on staff that will help you determine the true value of your antiques, or entire collections. Free Appraisal days are offered every Tuesday from 10:00am-4:00pm at our 564 Cabot Street location in Beverly, Massachusetts.