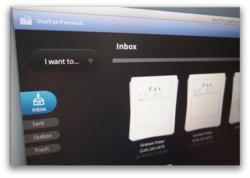 (PRWEB) July 24, 2012
Star2Star Communications, maker of "The World's Most Reliable Business Communications Solution," today announced the availability of StarFax Personal, a new cloud-based fax service.
StarFax Personal adds reliable, high-quality desktop faxing to any Star2Star system. Users can send and receive faxes to and from their desktop or laptop computers with no physical fax machine or other hardware. StarFax Personal is an add-on feature (called a Starlet) that operates within the same Revolutionary Next Generation Application Framework as StarScope 2.
Each StarFax Personal user is assigned a unique, personal fax number for incoming faxes. When a fax is sent to that number, the fax is received by the Star2Star system and stored "in the cloud" at a Star2Star data center.
Incoming faxes are stored as PDF files and can be viewed within the StarFax starlet or using a PDF viewer. Incoming faxes pass through an Optical Character Recognition (OCR) program, so all received faxes are fully searchable.
StarFax Personal users can send virtually any type of printable file (.doc, pdf, jpg, etc.) directly from the StarFax Personal software. Laptop users can send and receive faxes anywhere there's an Internet connection.
StarFax Personal is priced at $4.95 per month, including 100 pages of fax. Additional pages are $.05 per page.
StarScope 2, StarFax Personal, and several future Star2Star applications all run on the Star2Star Application Framework.
About Star2Star:
Founded in 2006 in Sarasota, Florida, Star2Star Communications develops and delivers Integrated Communication and Collaboration solutions that connect and enable Productive Business People. Star2Star's award-winning technology employs a unique Blended Architecture that overcomes the reliability and quality limitations of other Internet communications technologies. Founded in 2006, Star2Star delivers innovative features and increased productivity while providing substantial cost savings.
During 2011, Star2Star achieved 100% network uptime and was named to both the Inc. 500 and Forbes Most Promising Companies lists.
Star2Star products are sold through a diversified international network of distributors, master agents, and certified installing dealers. Available across North America, Star2Star Internet communication systems are installed in thousands of businesses and in many large national retail and restaurant chains.