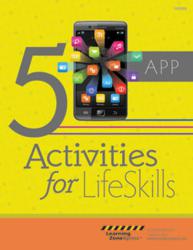 Owatonna, MN (PRWEB) July 24, 2012
As technology advances, so do learning opportunities. 50 App Activities for Life Skills is a brand new product developed by Learning ZoneXpress that highlights the best education apps related to life skills and nutrition. Technology is becoming an ever more apparent part of our lives, and this curriculum embraces that.
With more and more schools investing in iPad carts, iPods, and Bring Your Own Device (BYOD) policies, it's clear educational and elearning opportunities abound using education apps for kids.
Education apps can be used for calculating and recording data, accessing information and reference materials, or creating lesson plans that meet a learning goal.
This book contains 50 different app-based activities, games, and resources for the FACS (Family and Consumer Science) classroom that are available free on the App Store on a variety of life skills topics, including:

Child development and pregnancy
Housing and interior design
Financial literacy
Fashion and clothing care
Written by FACS Teacher, Ashley Davis, this curriculum includes 30 learning app activities on a variety of life skills topics each with an overview and accompanying worksheet, ten resources for teachers, and ten educational games.
Using education apps in the classroom is an interactive and engaging approach to lessons that have been around for a very long time. Students will appreciate the fresh content in the classrooms and be excited to participate in these activities.
This curriculum is available at learningzonexpress.com for $39.95
About Learning ZoneXpress
Learning ZoneXpress, based in Owatonna, Minn., is a leading source of "edu-taining" and award-winning teaching tools. Its mission is to help improve the health and vitality of children by providing relevant, creative and affordable learning tools about life skills, healthy behaviors and nutrition. Learning ZoneXpress offers a wide variety of learning aids and affordable education DVDs, posters, games, lesson plans, and PowerPoint presentations.
For more information about Learning ZoneXpress products, visit http://www.learningzonexpress.com or call Toni Gnasdoskey at 888-455-7003.